I have neglected this blog immensely and I apologize.  Life…..it just gets in the way.  And I honestly haven't been cooking too much either.  So I can't blog what I don't cook.  And this post isn't going to involve pressure cooking either if you got excited, sorry to disappoint you.  It's more of a catch-up post.
I took a two week vacation with my Hubz back at the end of May and beginning of June and I came home just about 5lbs heavier from eating all the delicious goodness that seems to always come along with vacationing.  We went to Tenerife, Canary Islands and Paris, France, so you can just imagine the wonderful and decadent food that went into my belly at a rate of 1lb per second.  I won't bore you with the details of our trip.  It was just a lot of eating, a lot of sight-seeing and a lot of eating.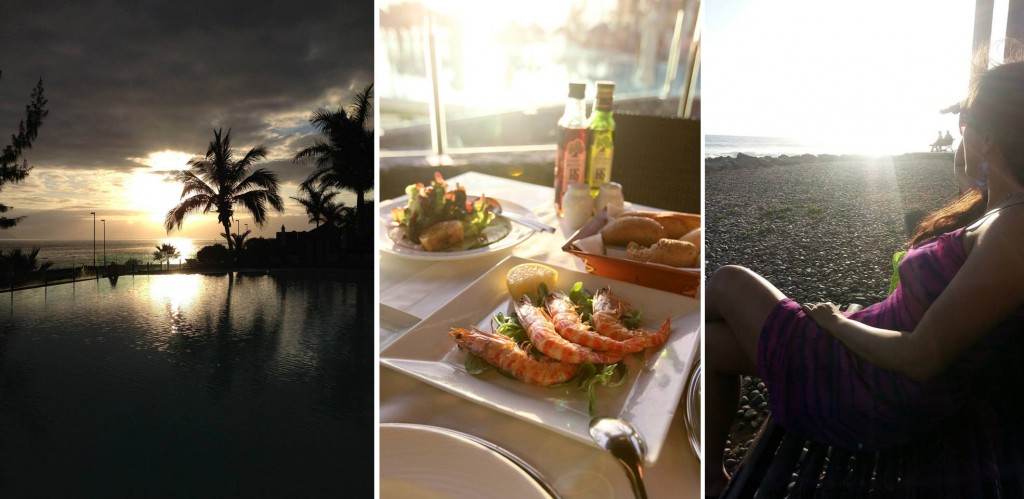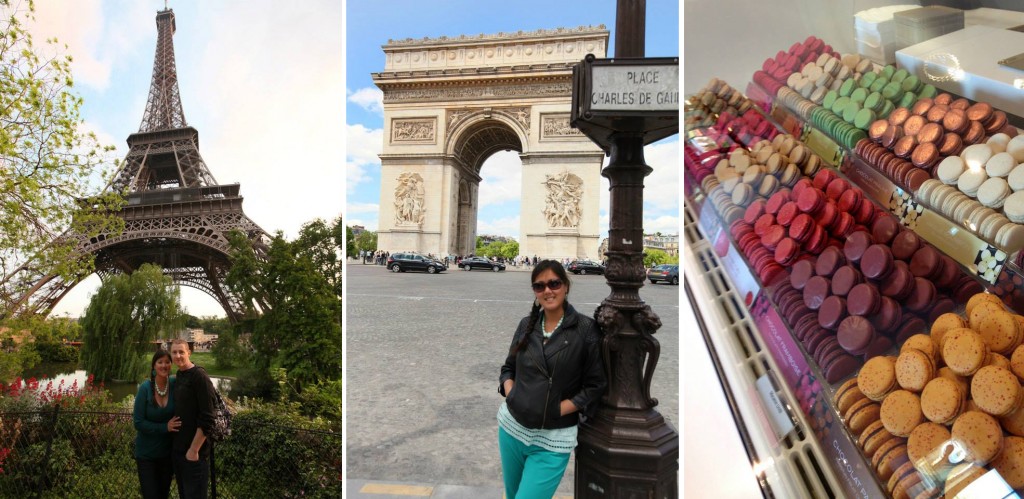 Once we got back home, I had to get back on track with eating clean and healthy and exercising regularly again.  Otherwise, I will have to go naked because my clothes wouldn't fit me anymore.  Going naked would probably bother a lot of people.  Or maybe it wouldn't???
So I decided to grow a vegetable garden earlier this year.  Now, please understand that I have never grown any type of plant, fruit or vegetable in my entire life.  If I did, it was a failed attempt and whatever was growing died a horrible death in a very short amount of time.  So instead of a Green Thumb, I had the Black Thumb of Death!  I couldn't even grow cactus in this dry SoCal heat.  And I absolutely hate bugs and anything that involves digging in dirt or getting dirt on my hands.  But I was determined to grow some organic food for my family to eat.  Nothing is more satisfying than harvesting your own food, right right?  It's like living in a Little House on the Prairie with Ma and Pa and I get to churn my own butter!!!  Okay, not really, but like kinda, right?  Okay fine, it's not.  However I'm sure Laura Ingalls would approve of my determination!  I wanted a garden and nothing was going to stop me!
Flash forward a few months and I came across a neat contraption.  It costs about the same as an iPad or if paid monthly for 12-months, it's about the cost of a basic cell phone plan each month.  OR if you really want to dissect the numbers, it would be approximately $1.37 each day for a year.  HAHA  I gestated over buying the contraption and I finally relented.  It has a 90 day return policy anyway so I figured what the hay!
Behold!  My Tower Garden!  Ta da!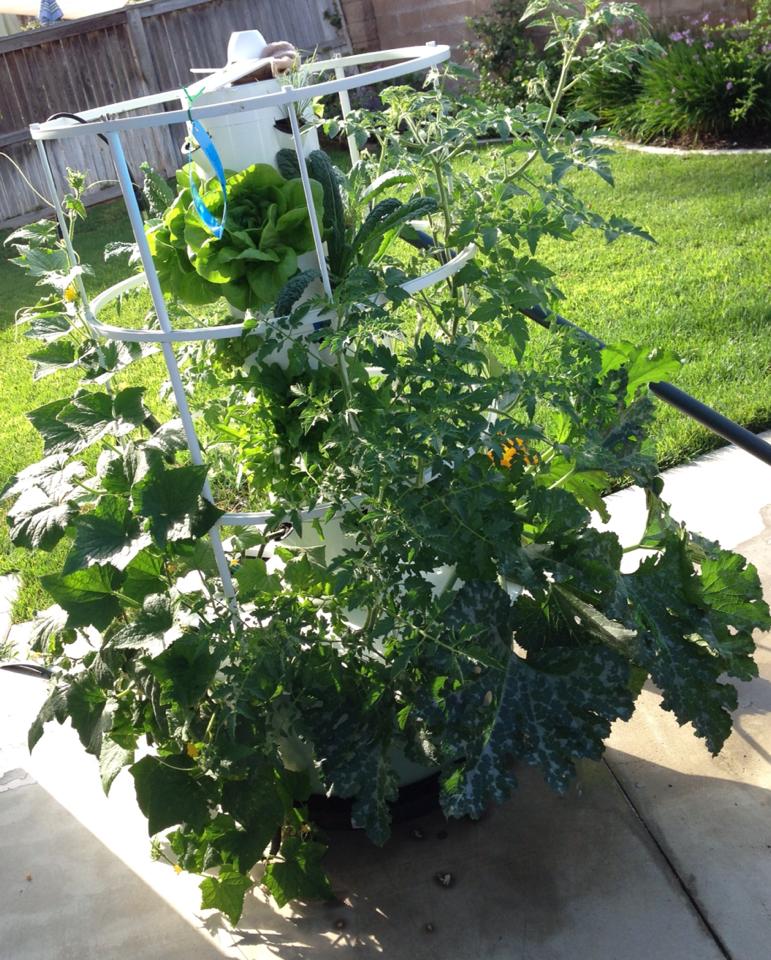 Please excuse me while I gush about my new found obsession with gardening!!!
I love my Tower Garden!  This photo above was just taken yesterday and it's only about 7 weeks along.  And I grew all my plants from little itty bitty seeds and sprouted seedlings.  And this photo doesn't even showcase it at its prime because I had already harvested a bunch of lettuces from the top section.  Nothing has died on me!  Everything is flourishing!  And my family and I have been eating off of it since about week 4.  There's no back-breaking maintenance work to weed or till any soil and disgusting worms!  There isn't even any soil to begin with!  You don't need a huge yard, it's compact, portable and doesn't grow out of control unless you allow it to.  All it needs is sun and water…..and love, so any deck, patio or rooftop would work.  And any insects or critters have been very minimal except for the one time when there was a giant grasshopper and I ran away from the tower screaming like a little girl.
So anyway, I was growing a lot of different lettuce varieties and cilantro.  But I've since removed a few of the lettuces and replaced them with new ones.  And also the cilantro started flowering so I got rid of that as well and replaced it with other herbs.  I am now currently growing Bibb Lettuce, Tuscano Kale, Zucchini, Cucumbers, three types of Tomatoes, Basil, Chives, Parsley and Dill.  I tried growing Spinach and Jalapenos but the seeds I used are bad I think because they continuously sprout just a little and then get stunted and won't grow any bigger.  Bah hum bug!
I won't bore you with the details on how this contraption works.  Let's just say it uses a combination of Hydroponics and Aeroponics.  Neat stuff.  But if you really are interested, you can always just message me.  Or you can visit the Tower Garden Website for all the nitty gritty details.
Just trust me, this Tower Garden is awesome!  I go out every morning for about 10-minutes on a short visit to 45-minutes on a long visit for inspection and pruning.  And sometimes I'll just go outside and sit down next to it because it has a nice water fountain effect.
I set up the tower right before my trip to Spain and France.
This was what it looked like before I left.  The first pic is of the little tiny sprout-lings that I started with seeds in some rock wool.  And then each sprout was placed into a little pot on my tower.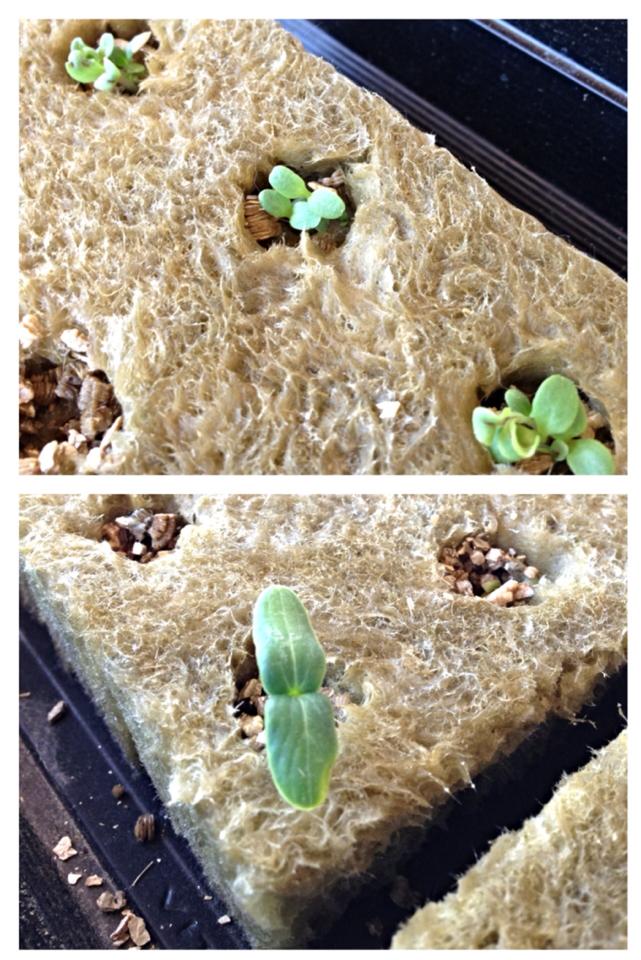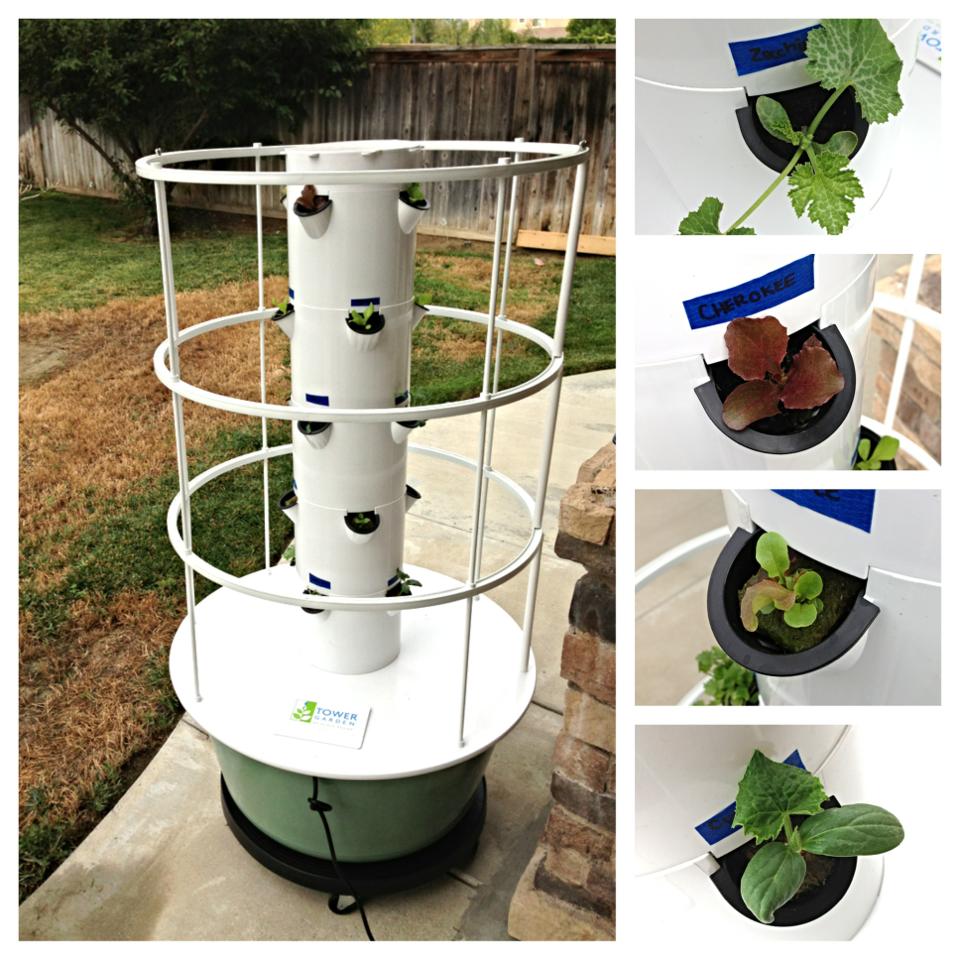 This image below shows the before & after growth of just one day of my mixed gourmet rocket lettuce and my cucumber seedlings.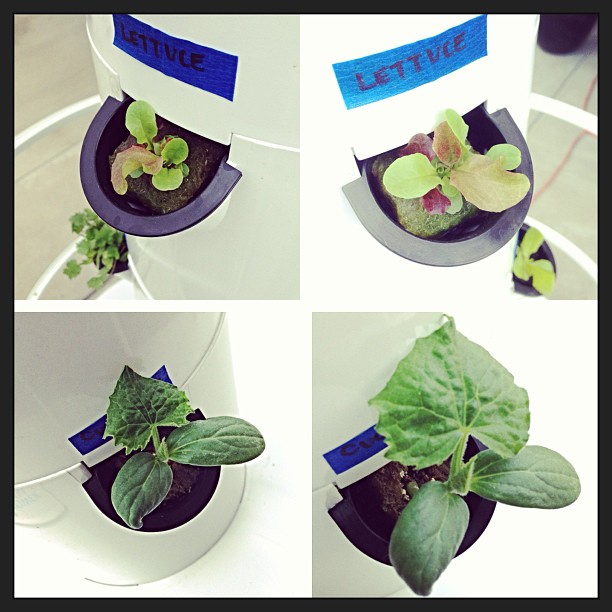 I left it for two weeks when I went on my trip.  My house-sitting friends kept an eye on it and filled the basin with water if it was necessary.  And I came home two weeks later totally thinking everything was going to be dead.  But to my pleasant surprise…..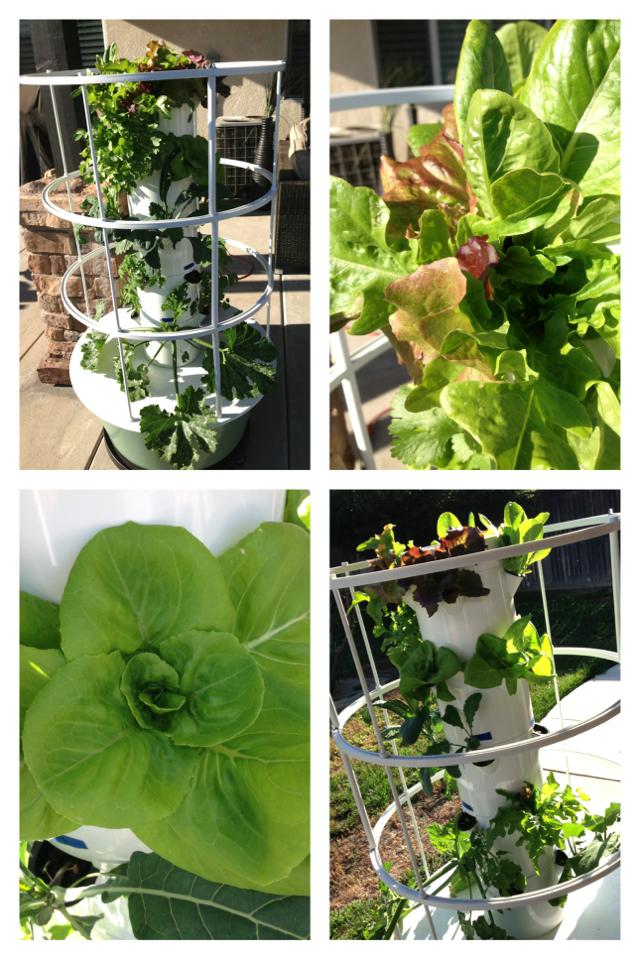 I was flabbergasted!  And this pic below shows it at week 2 and week 3 before and after.  WOW!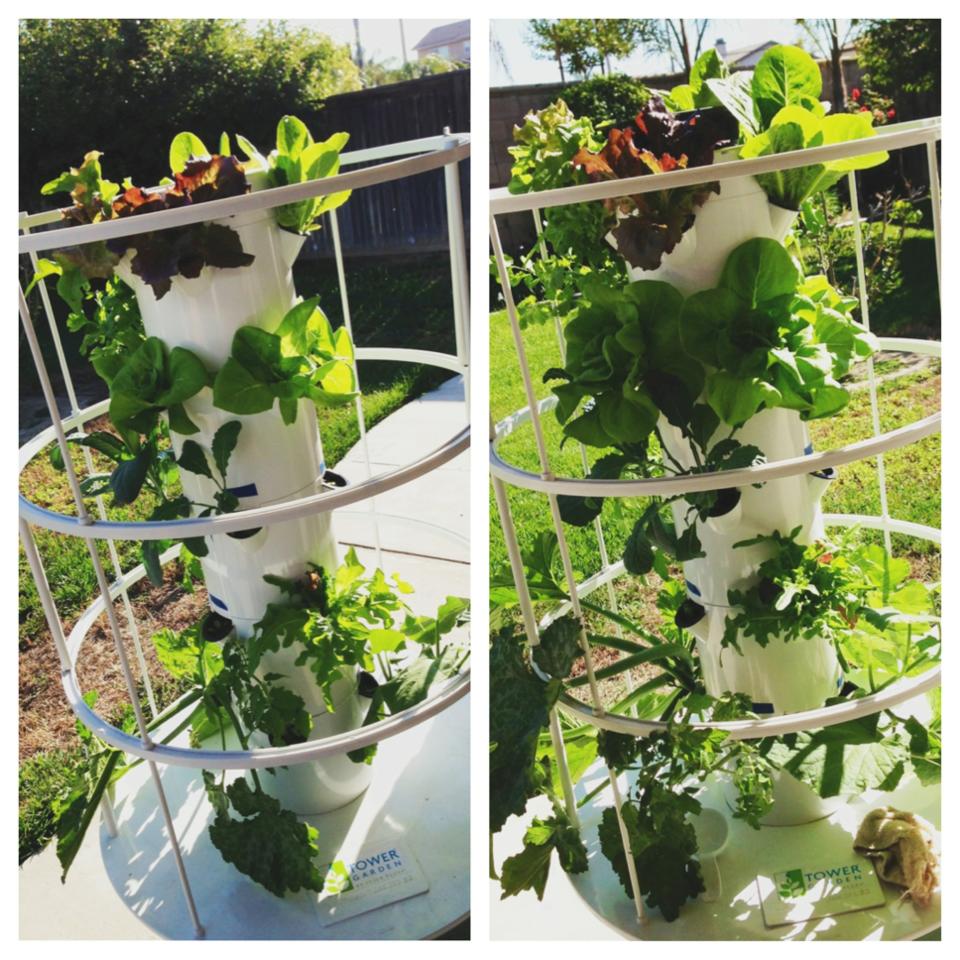 I couldn't wait to begin harvesting and eating off of it.  I harvested a crap load of kale, lettuces and cilantro around week 3-4.  Then my zucchinis started coming in at about week 5.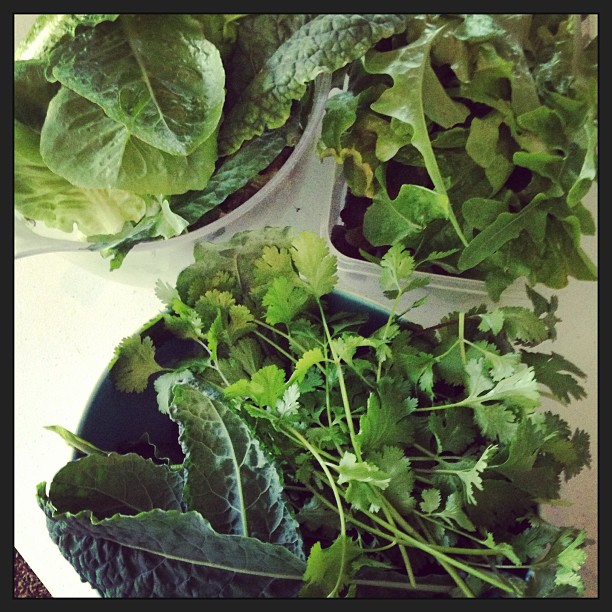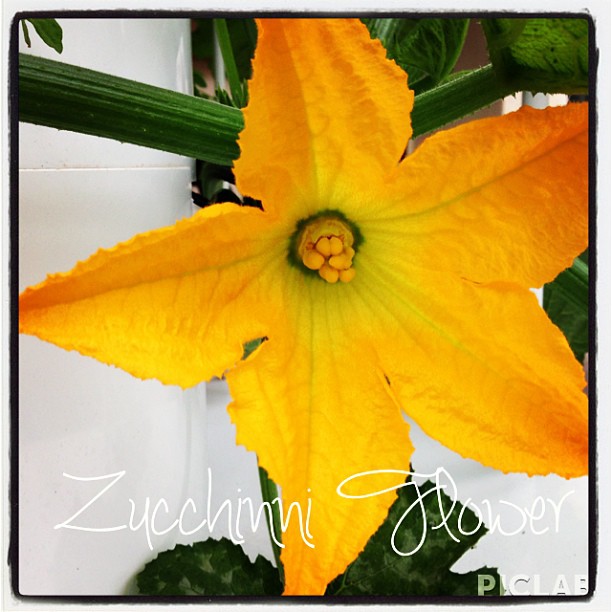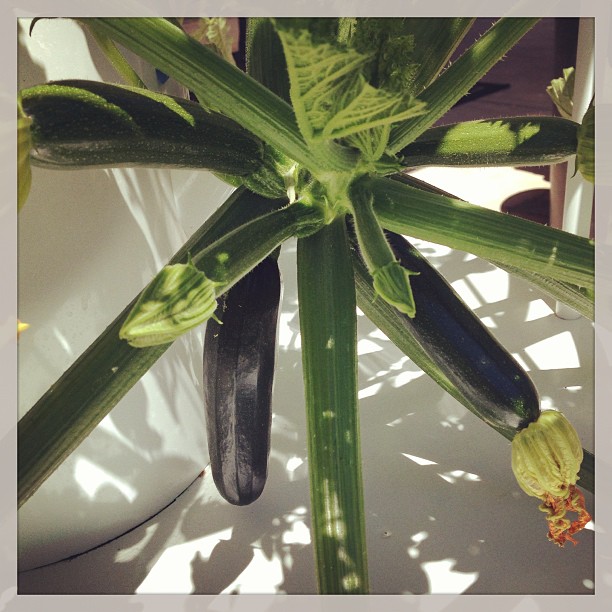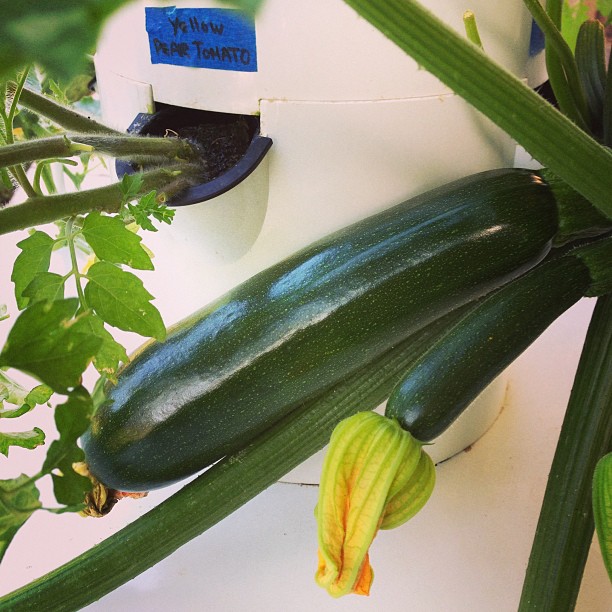 And finally my cucumbers are growing larger and my little tomatoes are coming in at about week 7.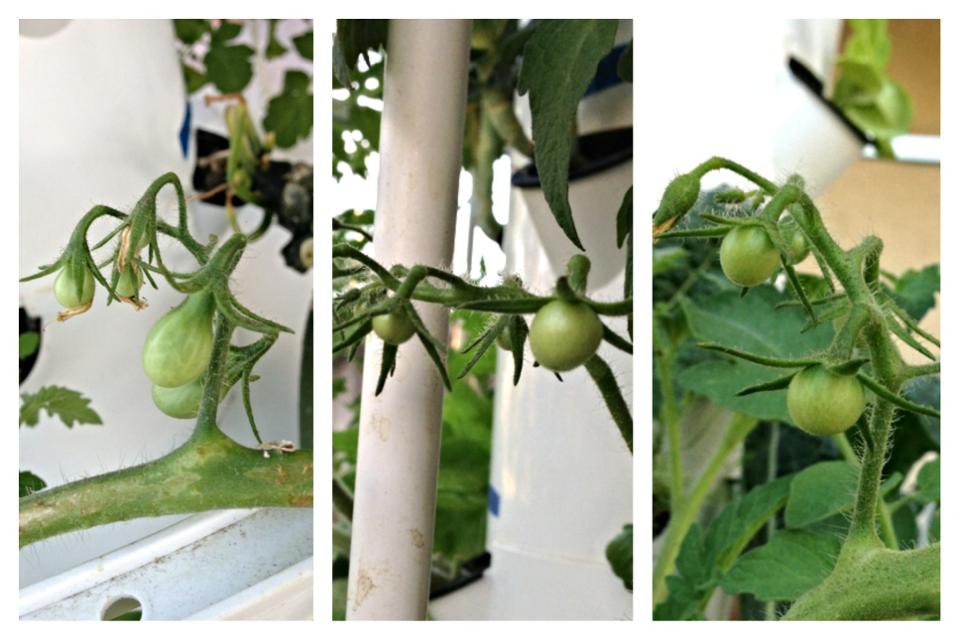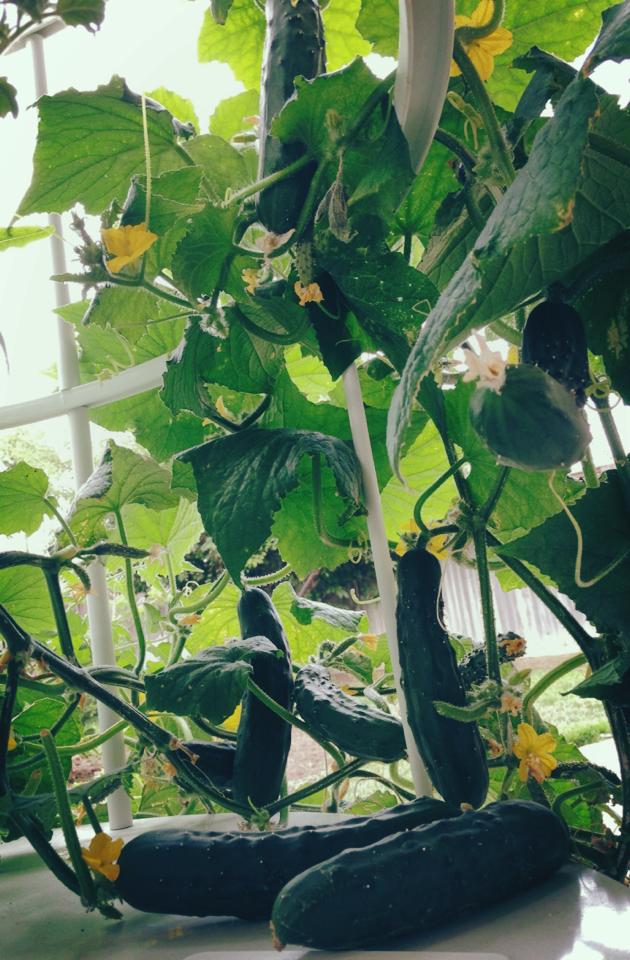 Seriously, I started off with not knowing ANYTHING about gardening.  I mean ZERO!  I didn't know the terminology.  I didn't know certain plants needed to be pollinated by bees or by hand.  I honestly didn't know jack squat!  And now, I'm on my way to being a Gardening Jedi in just short of 2 months!  Who knew gardening could be so entertaining?!
I just thought I'd share.  I promise I'll be back soon with some pressure cooking goodness.
Tootles!!!