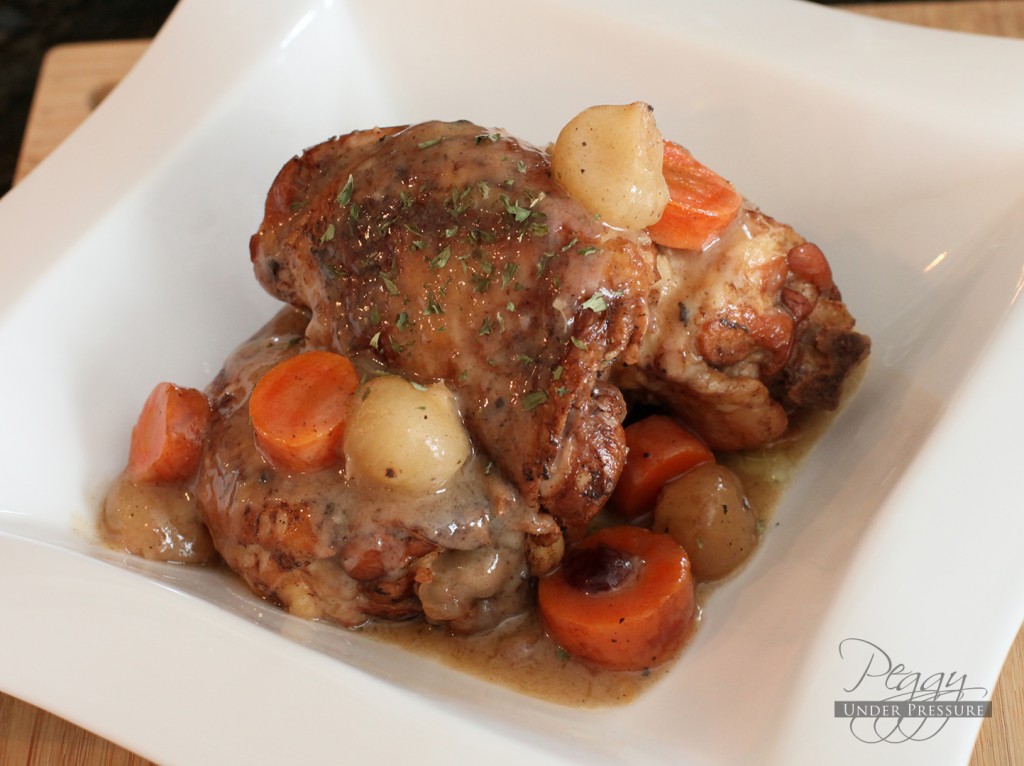 Thanks to Pinterest, I stumbled across this recipe and thought it was interesting.  So what the heck, let's give it a try.  Speaking of Pinterest, is anyone else obsessed with using it?  I recently got my friend into it and I've now created a pinterest monster!  There should be a Pinterest Anonymous for addicts.  Who else agrees?  Raise your hand!
And speaking of friends, check out my other friend's new website.  Fifty Shades of Flavor.  She just started the blog but please give her a visit so she can feel the love.  It's all about her eating, cooking and dining experiences.  It's a blog with an interesting twist.  🙂
Anyway, let's get back to some Pressure Cooking!
INGREDIENTS:
2 lbs. Chicken Thighs (You can use chicken breast to cut down on the calories.)
1 Ham Hock (I used this because the recipe called for Pancetta, and I didn't have any.  Oops)
2 Cups Chopped Carrots (Frozen of fresh, but for the love of god, don't use baby carrots anymore!)
2 Cups Pearl Onions (Frozen or fresh)
1 Cup Dried Mixed Berries (You can use any kind, a mix or just golden raisins.)
2 Bay Leaves
4 Cloves of Garlic
1/4 Cup Balsamic Vinegar
1/4 Cup Red Wine Vinegar
1/2 Cup Chicken Broth (You can honestly omit this ingredient since the chicken itself releases a lot of liquid already.  I was going to say chicken juice but changed my mind.  :P)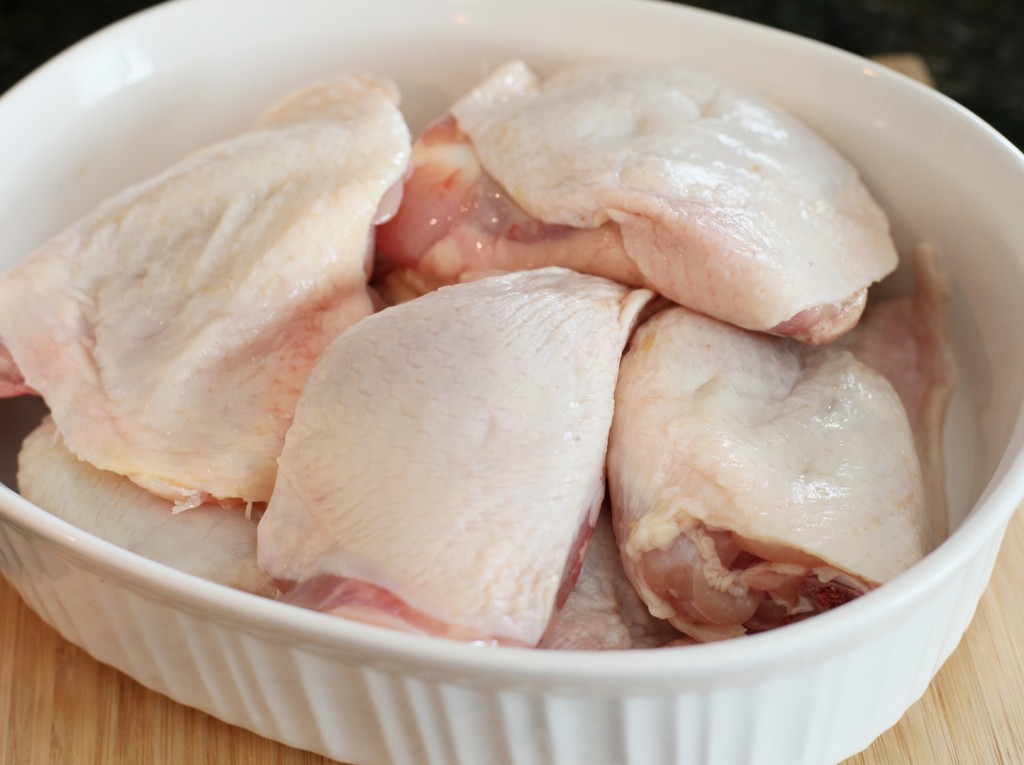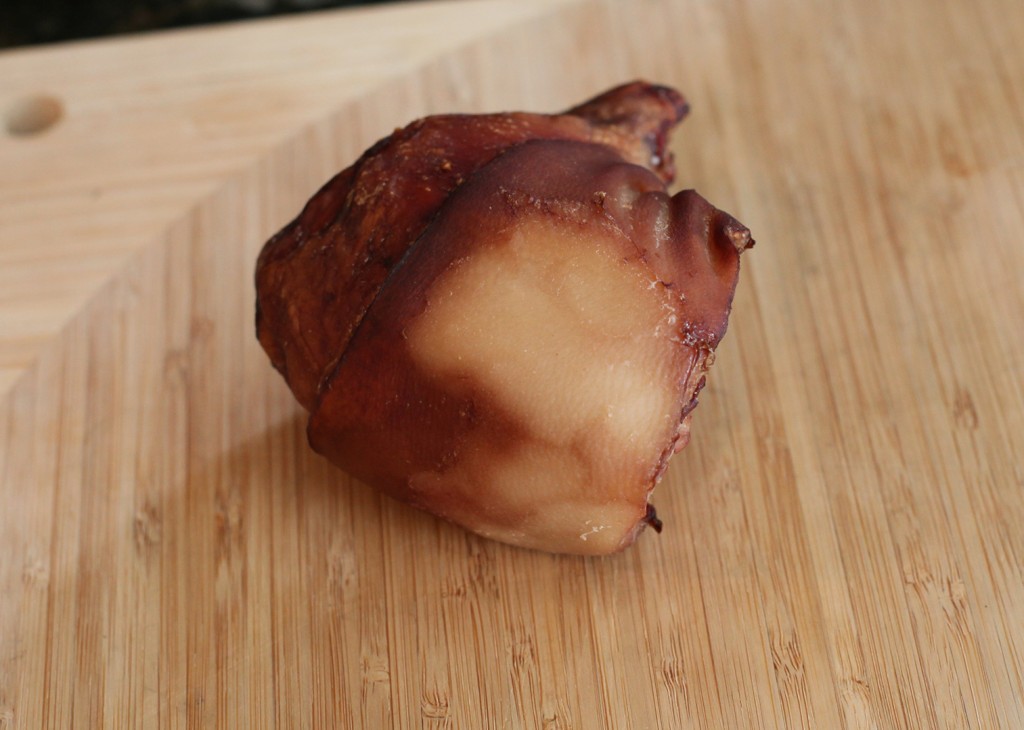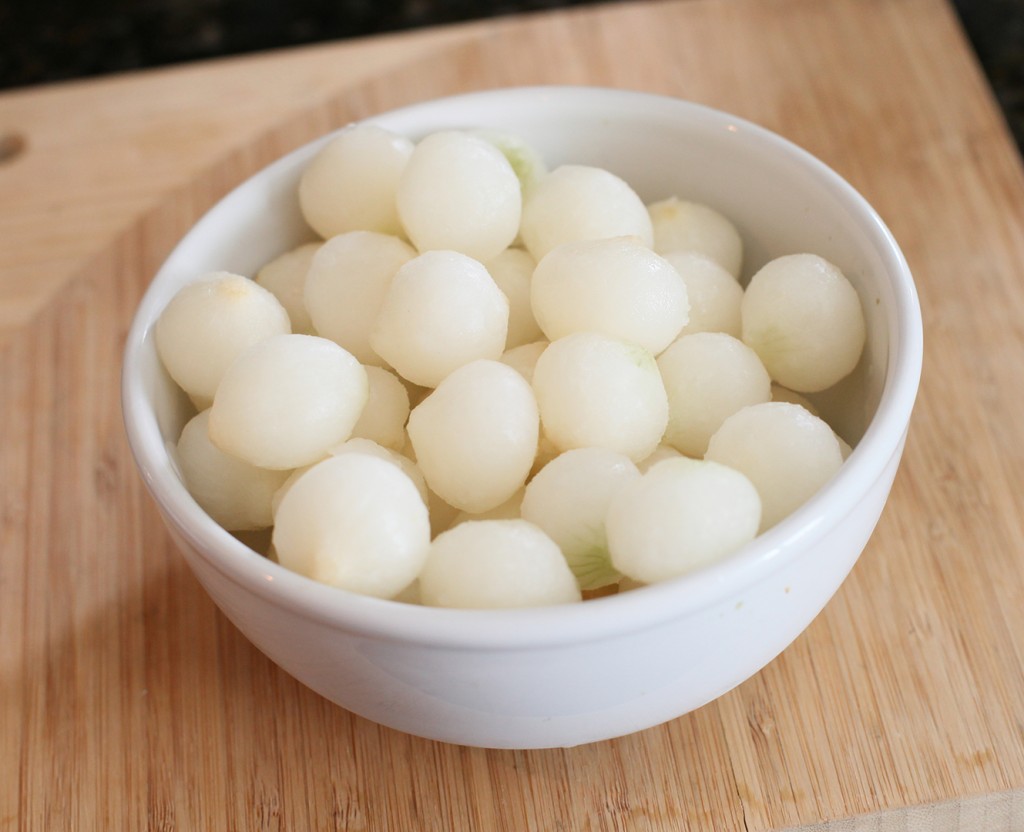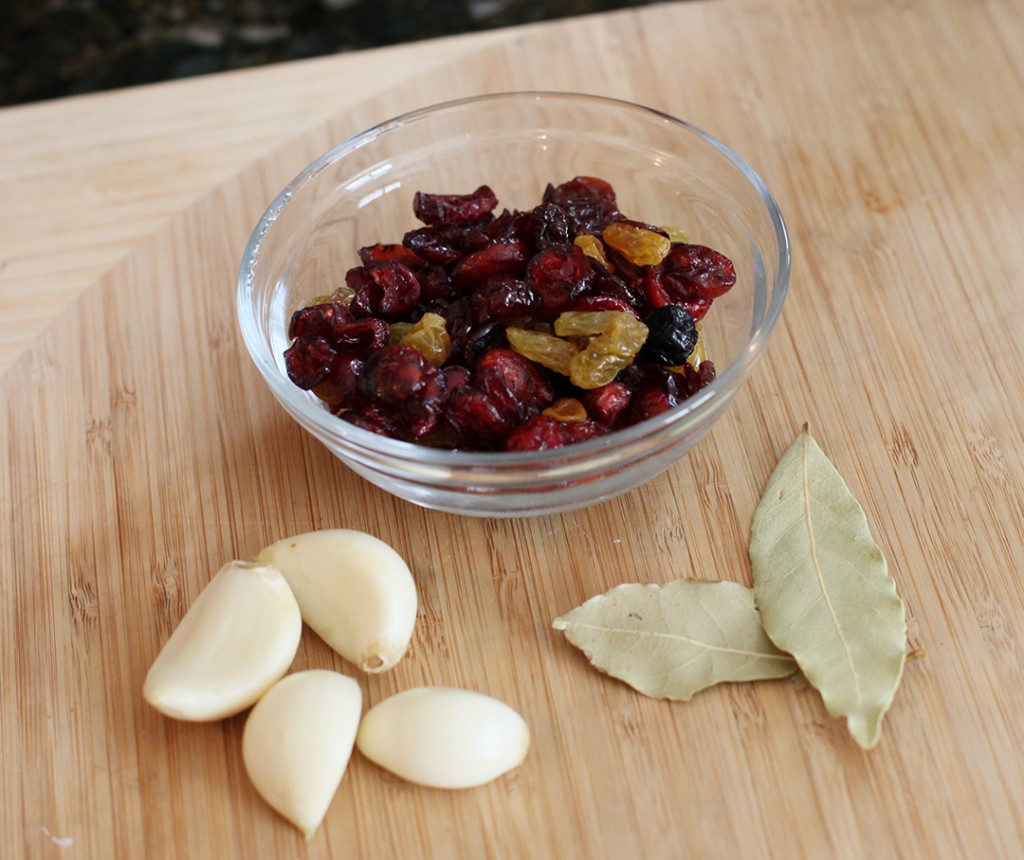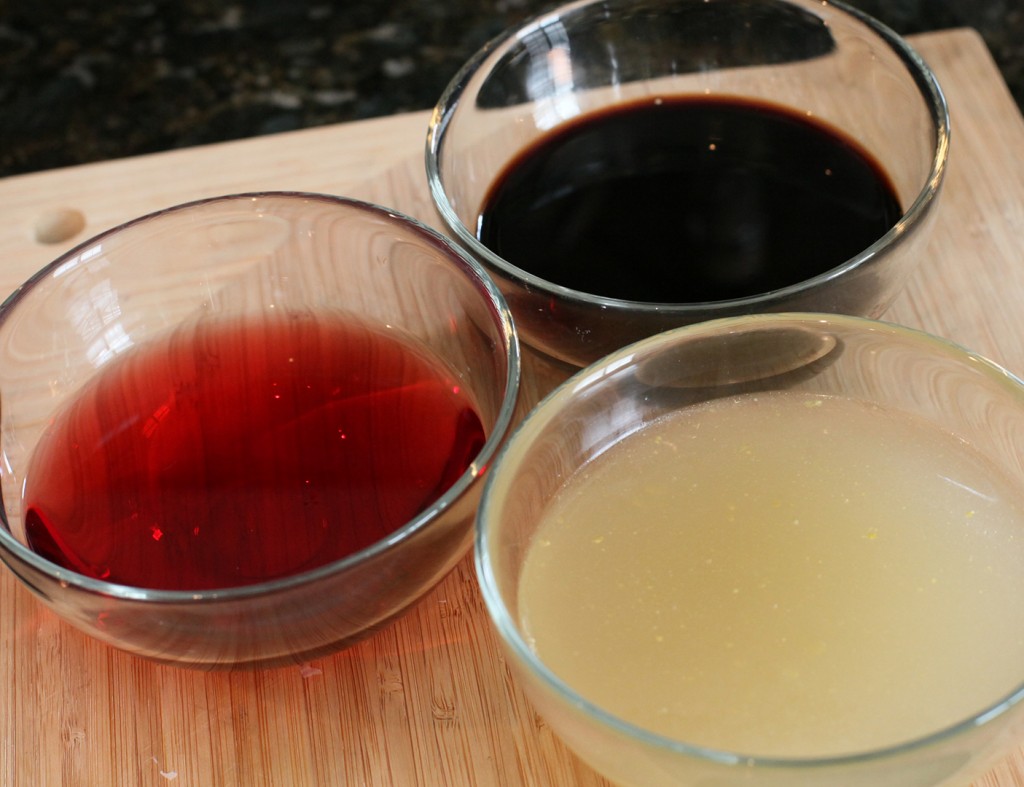 Alright, there is no easy way to say this but……put everything into the pot!
Do it!  Do it quick!
See if you can do it all under 30 seconds!
Ready, set, GO!
In all seriousness, season the chicken a bit on both sides with salt and pepper.  Then put the ham hock and the chicken down first into the bottom of the inner cook pot.  Then everything else in no particular order.  The chicken will brown a bit on the side that is touching the bottom of the pot.
Close the locking lid on your pressure cooker.  Make sure the Pressure Valve is set to Airtight.
Depending on the model and brand of pressure cooker you have.  Press the POULTRY or CHICKEN program button on your machine.  OR you can program it to cook for 17-minutes.  Press START and it's ready to go!
Let's see…..what did I do while my chicken was cooking?  Oh, that's right!  I did absolutely nothing!!!  YAY!!!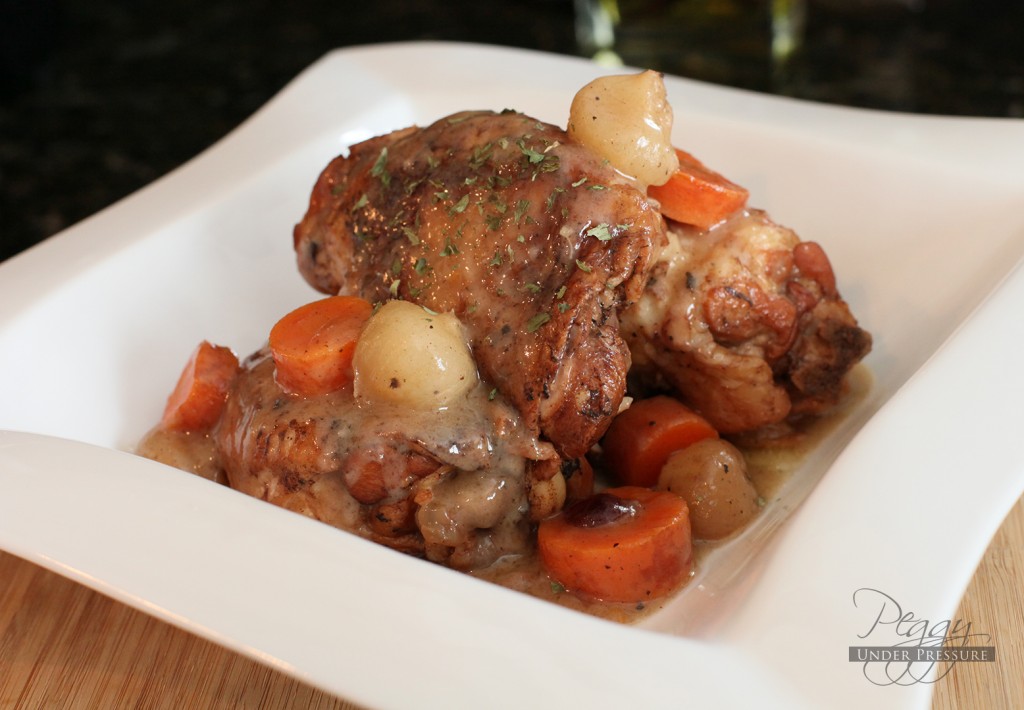 When your precious beloved pressure cooker gives you the signal, *beep beep*, it's time to release the pressure.  You know the drill.  Carefully turn the Pressure Valve on the top to EXHAUST or RELEASE or whatever it says and wait for all the steam and pressure to release.  The Float Valve will drop, allowing you to unlock the lid.
You'll notice that the level of liquids inside the pot has doubled almost.  I'm telling you, chicken loves releasing their chicken juice!  Use a pair of tongs and carefully remove all the chicken.  And I do mean carefully.  Chicken also loves to fall apart when it's pressure cooked.  Set the chicken aside and go back to the remaining sauce.  Ladle out or pour out about half of that liquid and return it back to the pressure cooker to reduce/thicken the sauce.  Press the START button to turn on the heating system.  Reduce the sauce so it becomes nice and thick.  Help it along by adding flour or cornstarch if you like.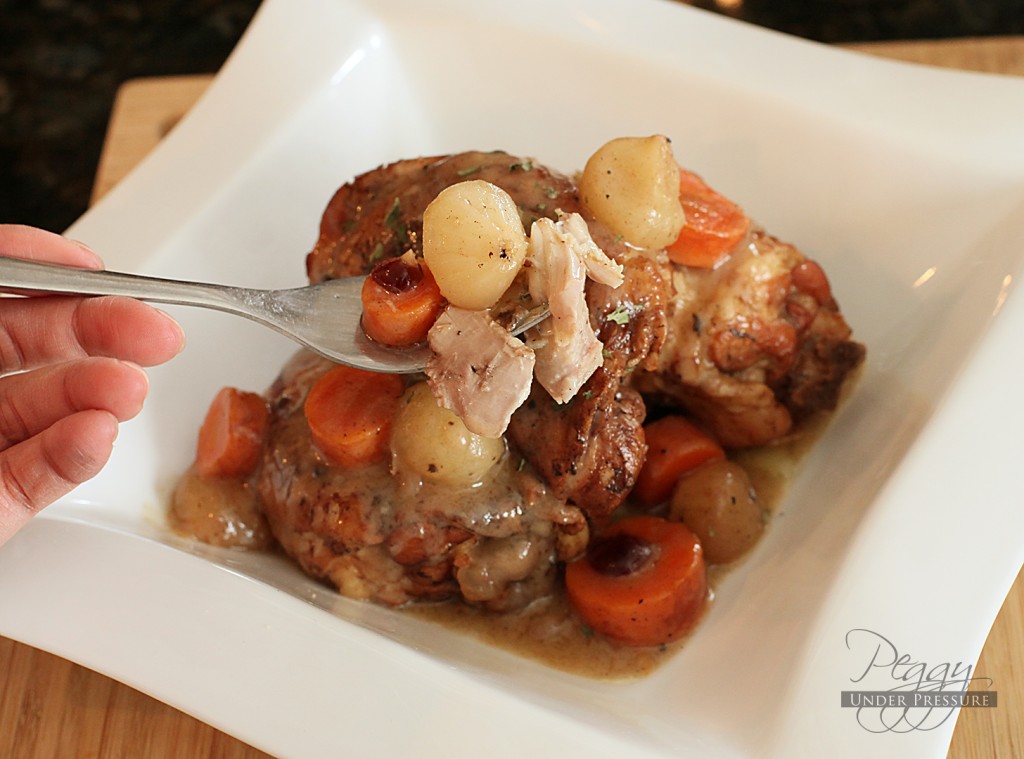 Once the sauce is thickened to the desired consistency.  Return the chicken carefully back into the sauce.  Set the pressure cooker to Keep Warm until it's ready to serve.  You can serve it with rice or mashed potatoes.  The chicken, as usual, was super duper incredibly moist!  And the flavors were a bit tangy and sweet.  I had expected the vinegar to be overpowering, but they weren't at all.  The dried berries added a slight touch of sweetness so make sure you get a bit of that with each bite!