Sorry, I got a little busy recently with the Thanksgiving Holiday.  I didn't cook one single thing for the Turkey festivities though so I'm not sure what I was busy with.  My family and I ordered a pre-made meal from Bristol Farms groceries and it was delish!!!  Less work, less dishes, and more food in our bellies!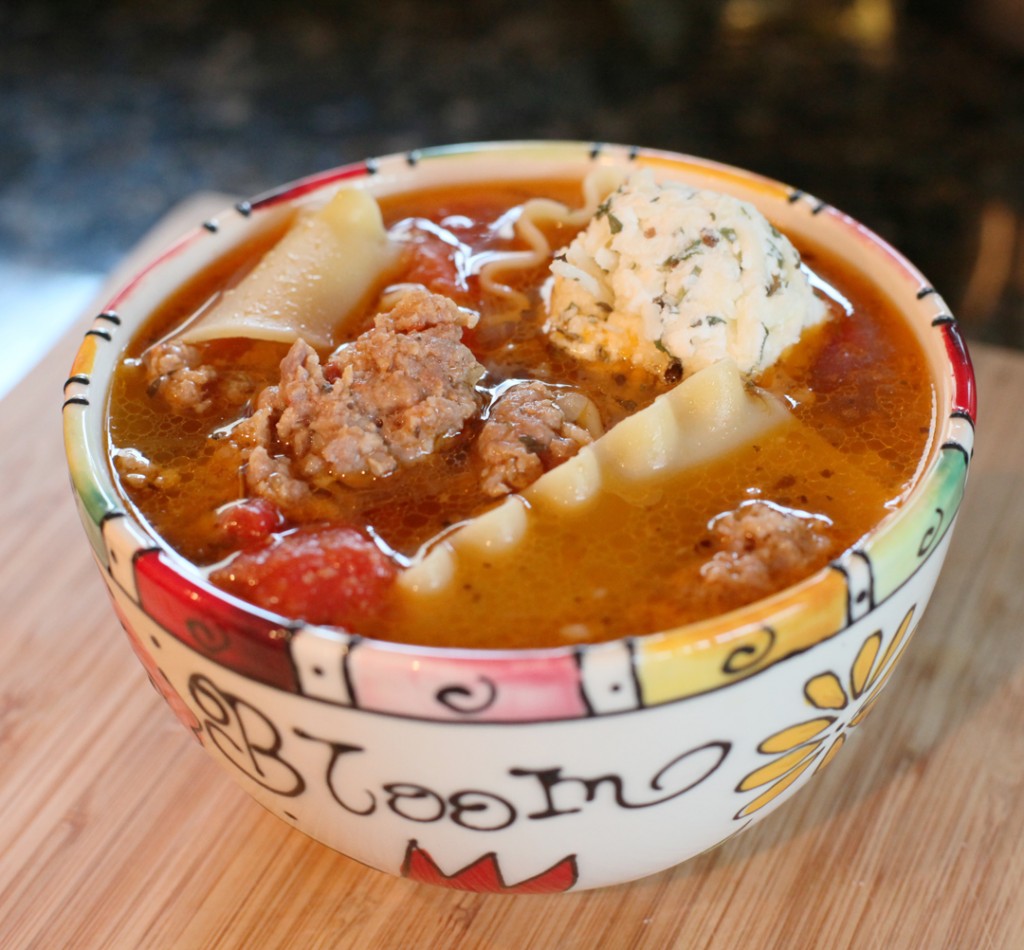 So anyway, I've decided that I am going to attempt a Soup Diet for the next few weeks since I can't go to the gym for about 2 months max. It seems to help with water weight (if you stay in the low sodium content) and gets you full quicker.  Yet you eat less and it goes through your system faster as well.  I'm all for anything that promotes extra weight loss, on top of regular exercising of course.  Sheesh, I sound like an infomercial!
I've made a couple of soups from old blog entries already but today's recipe is a newbie.
It's Lasagna!  But a soup version of it!
So let's get cracking!  It's souper easy as well!  (See what I did there?  haha  And sorry about my photos, it was a rainy and cloudy day and by the time I got around to taking a pic of the final product, it was pretty dark already.)
I'm also going to include some recipe tweaking/suggestions to lower the calorie and sodium count for us loony health nuts.
INGREDIENTS:
2 Lbs. Spicy Italian Sausage (You can also use lean ground beef or even ground turkey)
2 16oz. Cans of Chopped Tomatoes (Omit one can if you want less calories)
1 8oz. Can of Tomato Paste (Omit completely if you want less sodium and calories, which I did so I don't have a photo of it)
1 Whole Yellow Onion, chopped
3 Cloves of Fresh Garlic, minced
2 Tbsp. Italian Seasoning (Forgot to take a picture of it)
4 Cups of Chicken Broth (Forgot picture again.  Damn!  Omit completely and just use water, or use vegetable stock if you want less sodium)
Package of Mafalda Pasta, which look like cute little pieces of lasagna (You can use broken pieces of lasagna as well, which is what I did. Or fusili pasta)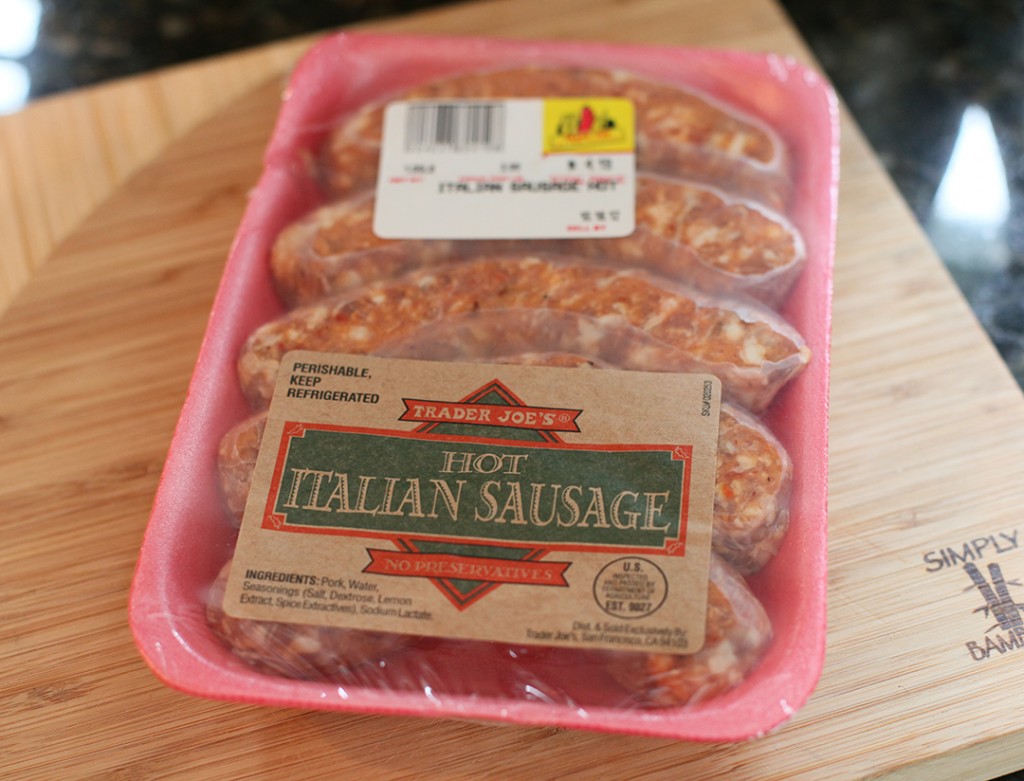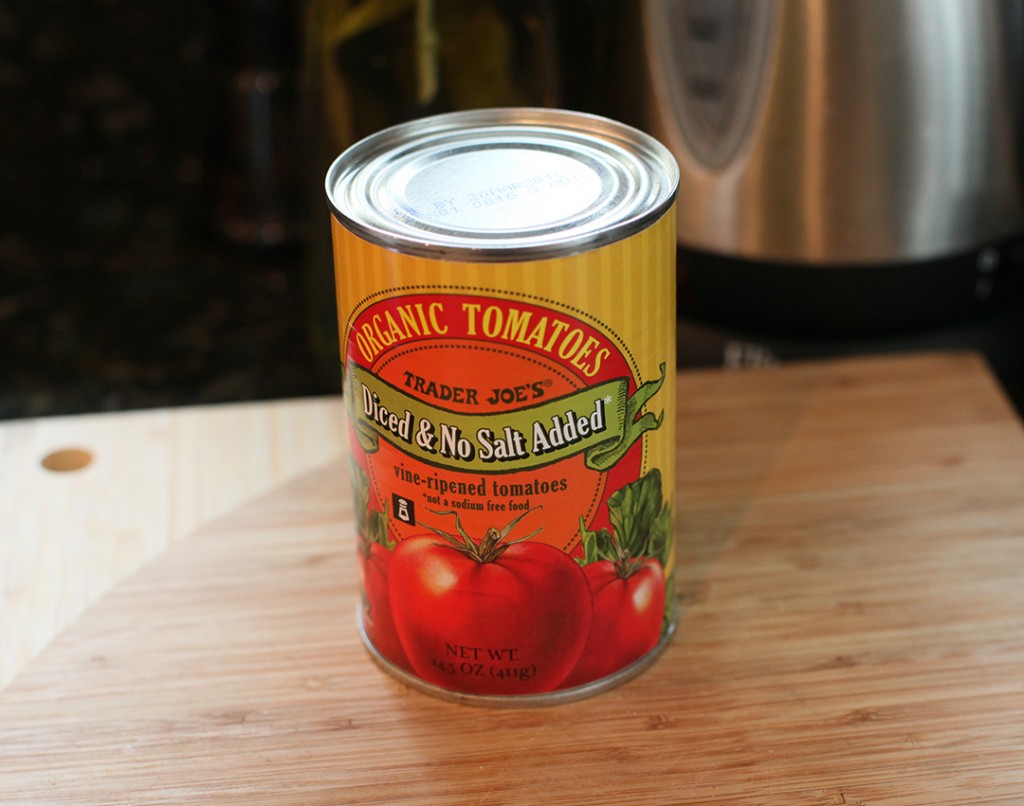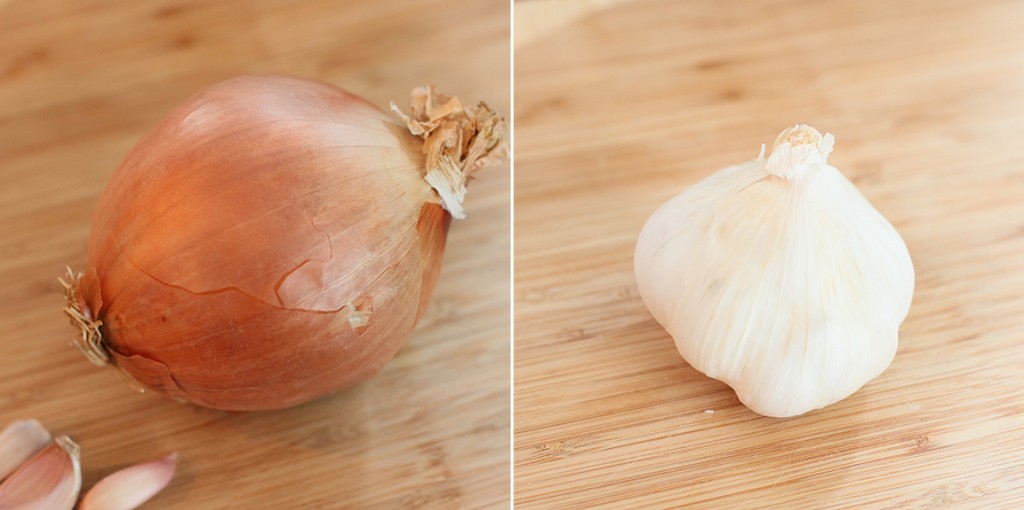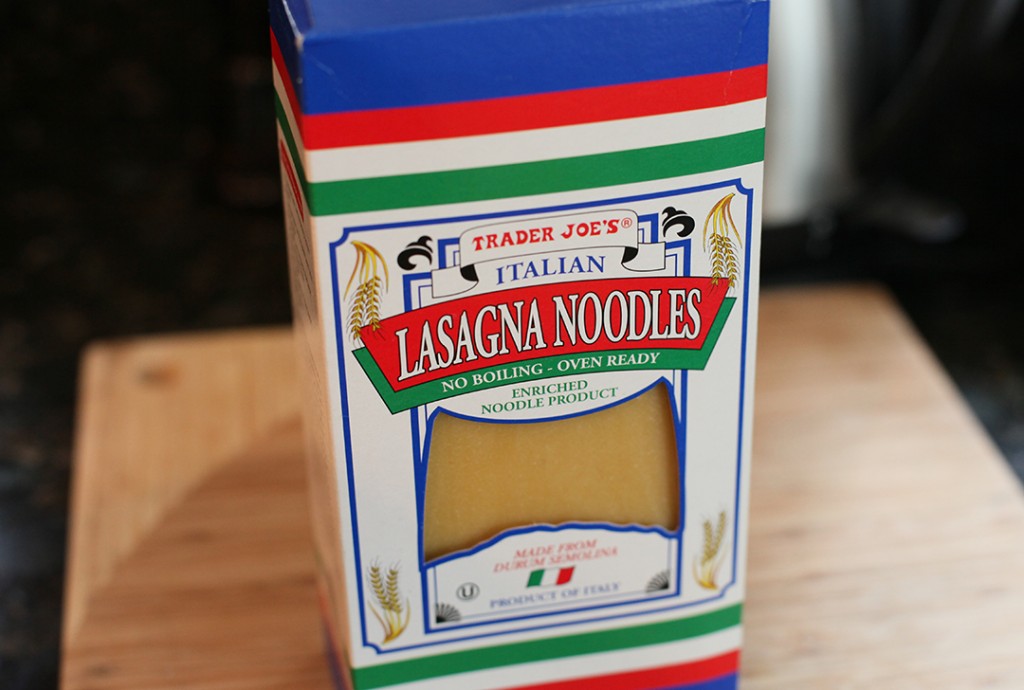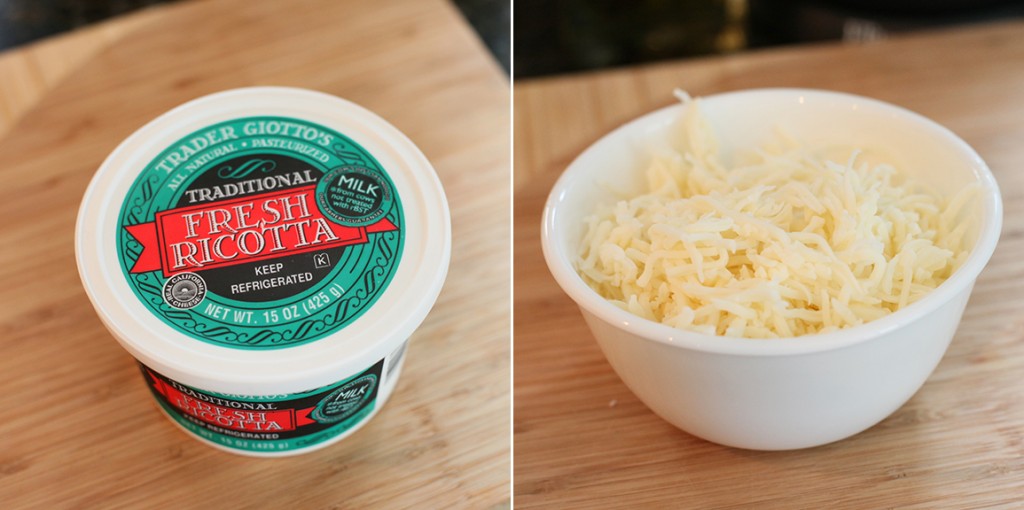 Cheese Balls:

Shredded Mozzarella
Low Fat Ricotta Cheese
In your handy dandy pressure cooker's inner cooking pan/pot, put a bit of olive oil and heat up the browning feature if your model has it.  Otherwise you can do it on the stove in a saucepan.
Crumble the sausage or whatever meat you are using and brown the meat in the pot.  Add the Italian Seasoning and lightly saute everything together.  Turn off the browning feature.
Add in the minced garlic and chopped onions.  Also the cans of chopped tomato and tomato paste.  Give everything a good stir.
Now pour in the Chicken Broth or water.  I did a mix of broth and water until my pot was at the MAX line full capacity.  Make sure not to over fill pass this line or you're going to have a mess.
DO NOT ADD THE PASTA YET!  We'll do that later.
Close the lid and lock it.  Set the pressure valve to Airtight.  Program your pressure cooker to cook for 10-minutes.  Or if it has a pre-set SOUP function, go ahead and press that.
That's it.  It's all ready to go.
Now, I want to make sure everyone knows that when you're making a large pot of soup that has a high liquid content, the pressure cooker will take longer to come to pressure because it has to take time to heat up the liquid inside it.  Once it is all heated and the pressure has been reached, the cook time will then begin and count down.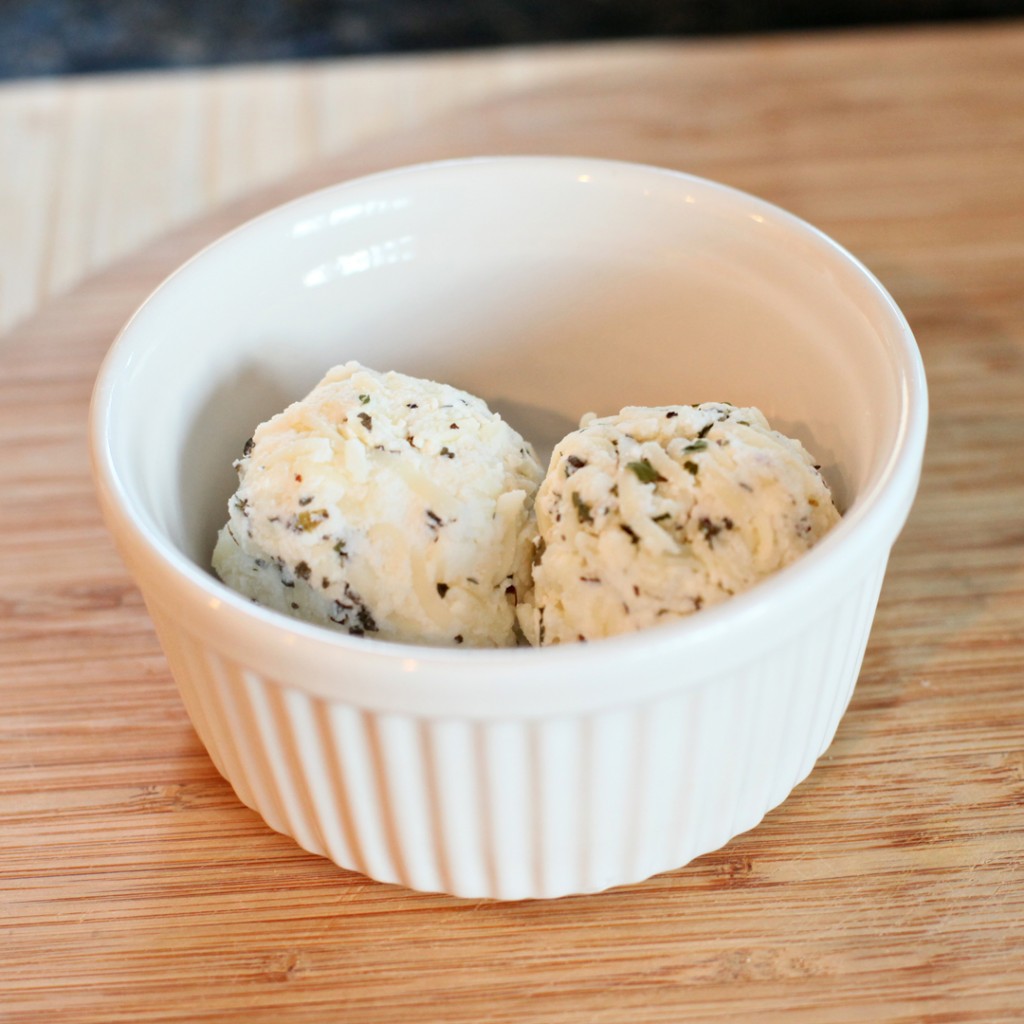 While the pressure cooker is doing its thing, you can make the cheese balls!  Lasagna is known for all its cheesy goodness.  And I know cheese is really not the way to go if you're trying to watch your calorie count.  But it's okay, you're just using a little bit of cheese.  It's nothing compared to the baked lasagna that's loaded with gallons and gallons of thick fattening cheese in layers and layers.
To avoid making a mess, use a clean plate and put some shredded mozzarella cheese onto the plate.  Then scoop out about 2-3 tablespoons of ricotta cheese and mash it onto the plate and mix it with the mozzarella.  Mash and roll until both cheeses are incorporated and roll it into a nice tight ball.  You can choose to add some dry parsley and dry basil to the cheese balls too.  Make however many balls you want and cover with saran wrap.  Refrigerate until you're ready to serve the soup.
Whenever the pressure cooker has finished pressure cooking, adjust the pressure valve to Exhaust to release all the pressure.  For a big pot of soup, it may take almost 2-minutes for it all too release completely.  Once all the pressure is released, open the lid.  The unit should also have gone to the Keep Warm setting automatically.
Give everything a good stir.
Add about 1-2 cups of pasta to the soup.  Don't add too much because the pasta have the tendency to soak up a lot of the liquid and get really bloated looking.  Add just enough for the amount of servings you want.  Season with salt but don't go overboard.  I always leave salting my food towards the end or when I'm actually serving it.  Shut the lid to the pressure cooker again and program it to cook for just ONE more minute.
Once that has completed, go through the usual cycle to release the pressure and unlock the lid.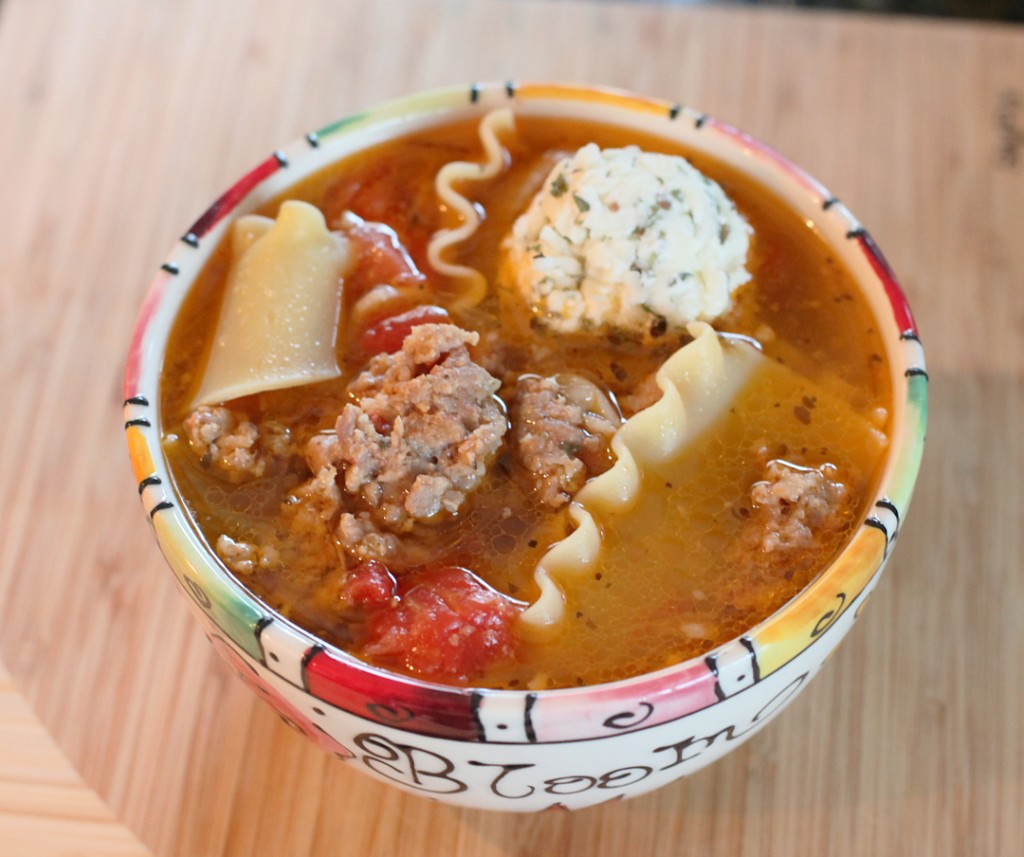 Ladle a nice portion into a serving bowl and drop a cheese ball into the center of the soup.  Serve while it's nice and hot!  The cheese will melt and make the soup sort of creamy.  The Hubz also had a great idea.  He said you can toast a slice of buttery garlic bread and drop it into the soup and top it with more cheese, kind of like a French Onion soup!  Instead this would be an Italian Lasagna soup!
Enjoy!