I had a little casual get together with some friends this weekend.  Actually, I just wanted an excuse to cook something I've never cooked before and wanted to subject them to being my little guinea pigs to test my cooking on.  You know, the kind of guinea pigs that listen to Hip Hop music, dress like Eminem or Jay-Z, and drive around in KIA SOULs.  Except my guinea pigs got to eat some good food too!  That's right homies!!! (Okay, I just realized the Kia Soul commercials have rapping/raving hamsters instead, oh well, close enough!!!)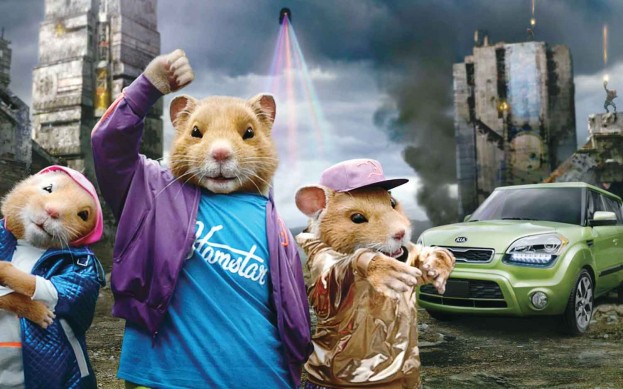 I stumbled across a blog devoted to making a variety of different kinds of Grilled Cheese sandwiches. Seriously!  It was like the sea had parted and this beautiful, crispy and buttery sandwich with oozing melted cheese stood at the other end.  Angels sang and cherubs fluttered about playing triumphantly on golden trumpets.  I absolutely LOVE grilled cheese sandwiches!!!  But I haven't eaten one in a gazillion years because for some reason, my household does not believe in buying bread products.
And by household, I meant me, myself and I.
So when I stumbled across this one particular sandwich recipe called THE BEE STING, my brain exploded and I became obsessed with wanting to make them for the past two weeks.  It was like a whole new world opened for me because I realized you don't have to make grilled cheese sandwiches with just cheese only! You can use all kinds of delicious ingredients!  And this recipe has honey in it!  HELLO!  I love breaking the rules!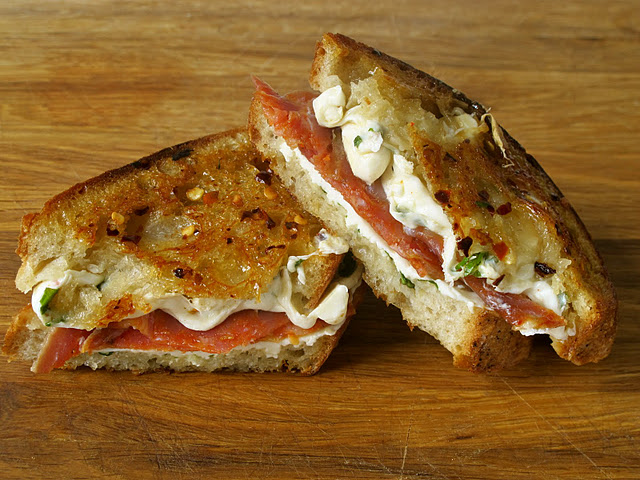 I even told my BFF about it and got her drooling over it.  Therefore it was decided that I was going to make some!  And make some, I shall!
Except…..what about my pressure cooker?  I need to cook something in my big fat Peggy so I can finally post something on the blog.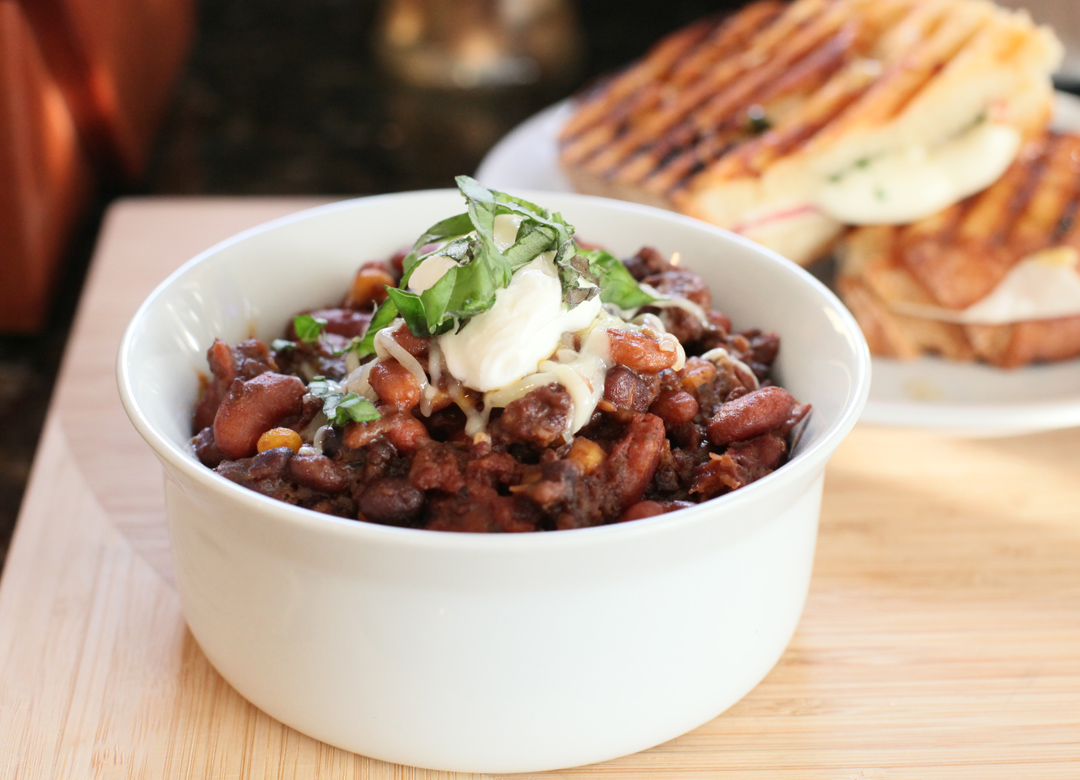 Never fear, I had a Chili recipe brewing in the back of my head for quite a while now, except I was lazy and never got around to making it.   I decided to serve the sandwich with a side of chili.  Or serve the chili with a side of sandwich.  And since the BEE STING sandwich had Italian ingredients, I had to make sure my chili did as well.  I have this thing with serving food that are internationally compatible.
So there you have it folks!  That's the round about story on how I decided to make an Italian Sausage Three Bean Chili, for those of you who care to know.
INGREDIENTS:
2 Packages Spicy Italian Sausage (Or more, if you like it meaty)
1 Whole Onion (Finely Chopped)
4 Stalks of Celery (Finely Chopped)
1 Cup Corn (Fresh or Frozen)
4 Serrano Chilies (Finely Chopped)
4 Cloves of Garlic (Finely Chopped)
1 Tbsp.  Dried Basil
1 Tbsp. Dried Oregano
1 Cups Pinto Beans (Dry Beans)
1 Cups Kidney Beans (Dry Beans)
1 Cups Black Beans (Dry Beans)
1 Bottle/Can of Beer
2-4 Cups Chicken Stock
1 Can of Whole Tomatoes
1 Can Tomato Sauce (Not pictured, forgot about it)
(If you want, you can also use a packet of Chili Seasonings.)
GARNISHES:
Sour Cream or Plain Greek Yogurt, Shredded Parmesan Cheese, Chopped Fresh Basil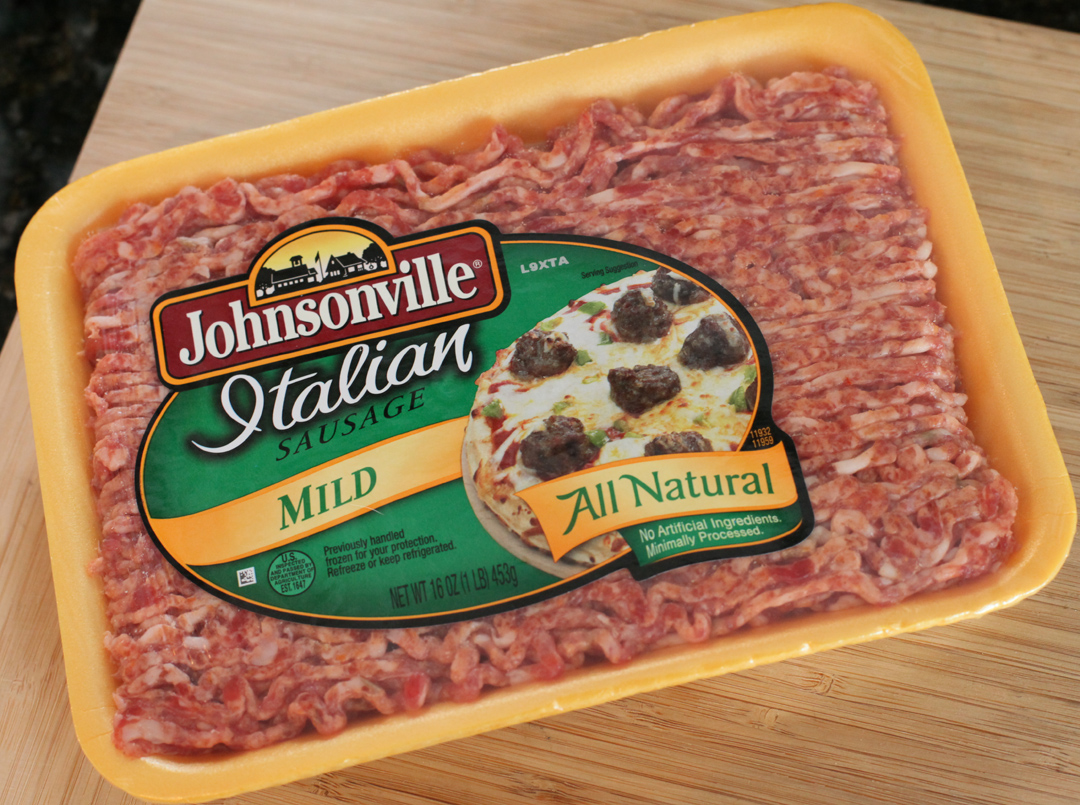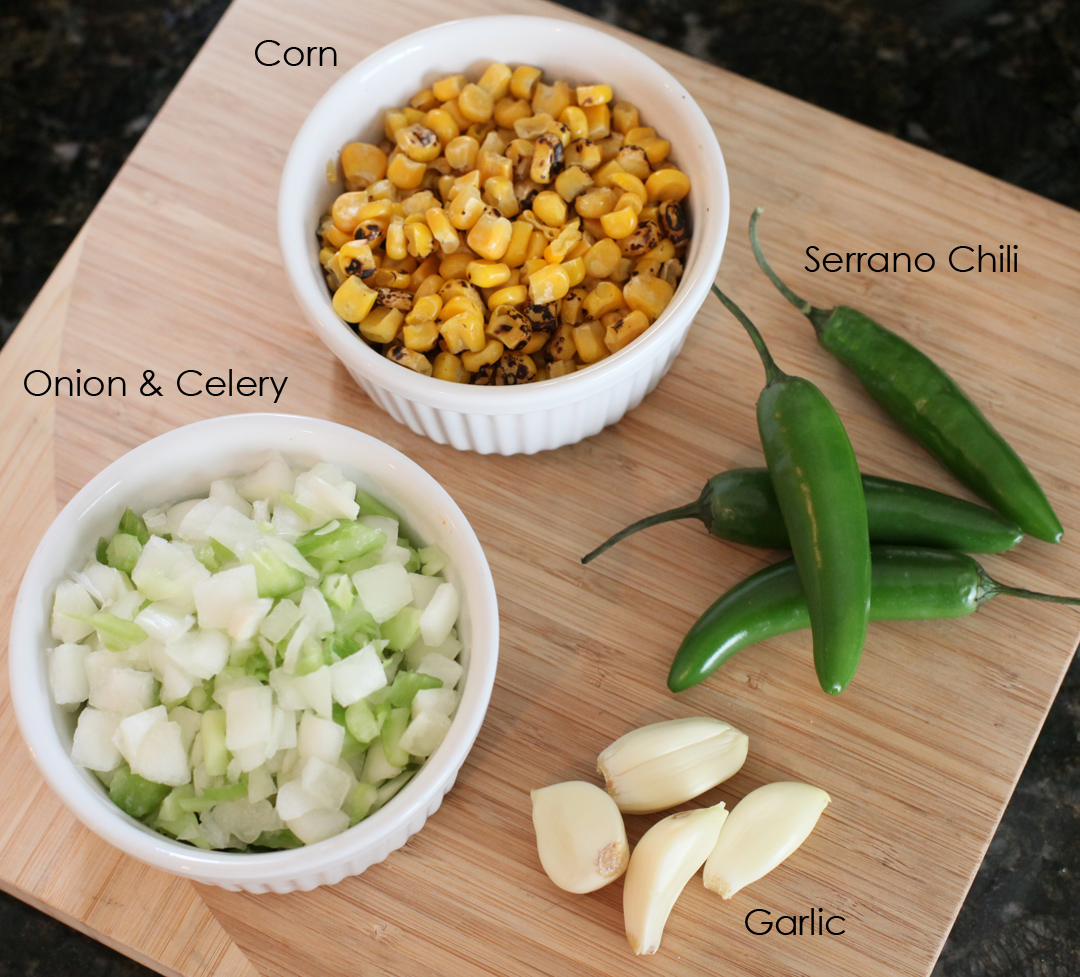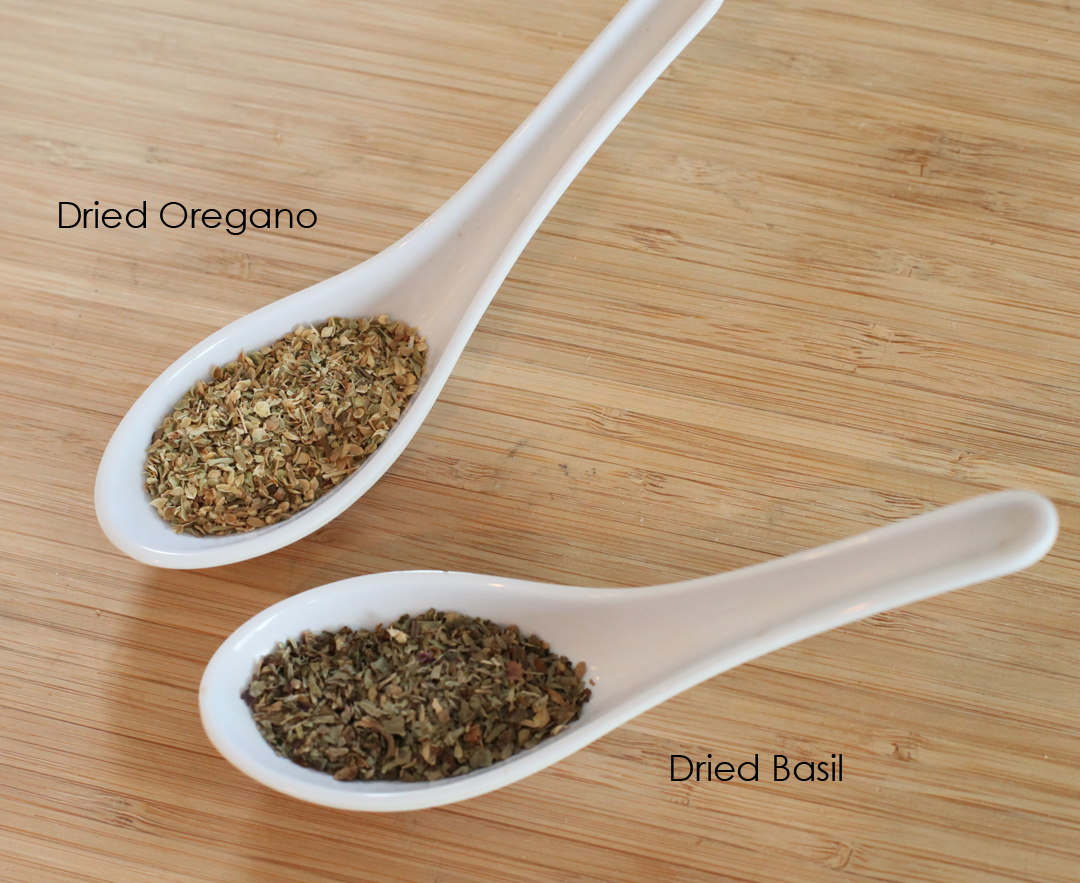 Press START on the pressure cooker to turn on the heating element to brown the vegetables.  Put a bit of olive oil into the pan and add the Onions, Celery, Chilies, Corn and Garlic.
While that is going, start separating the sausage and crumble them up into chunky pieces into the pot with the other vegetable ingredients.
Add the dried basil and oregano and any salt and pepper.
Give everything a good stir and just slightly brown the meat for about 5-minutes.  Press the CANCEL button to turn off the pressure cooker.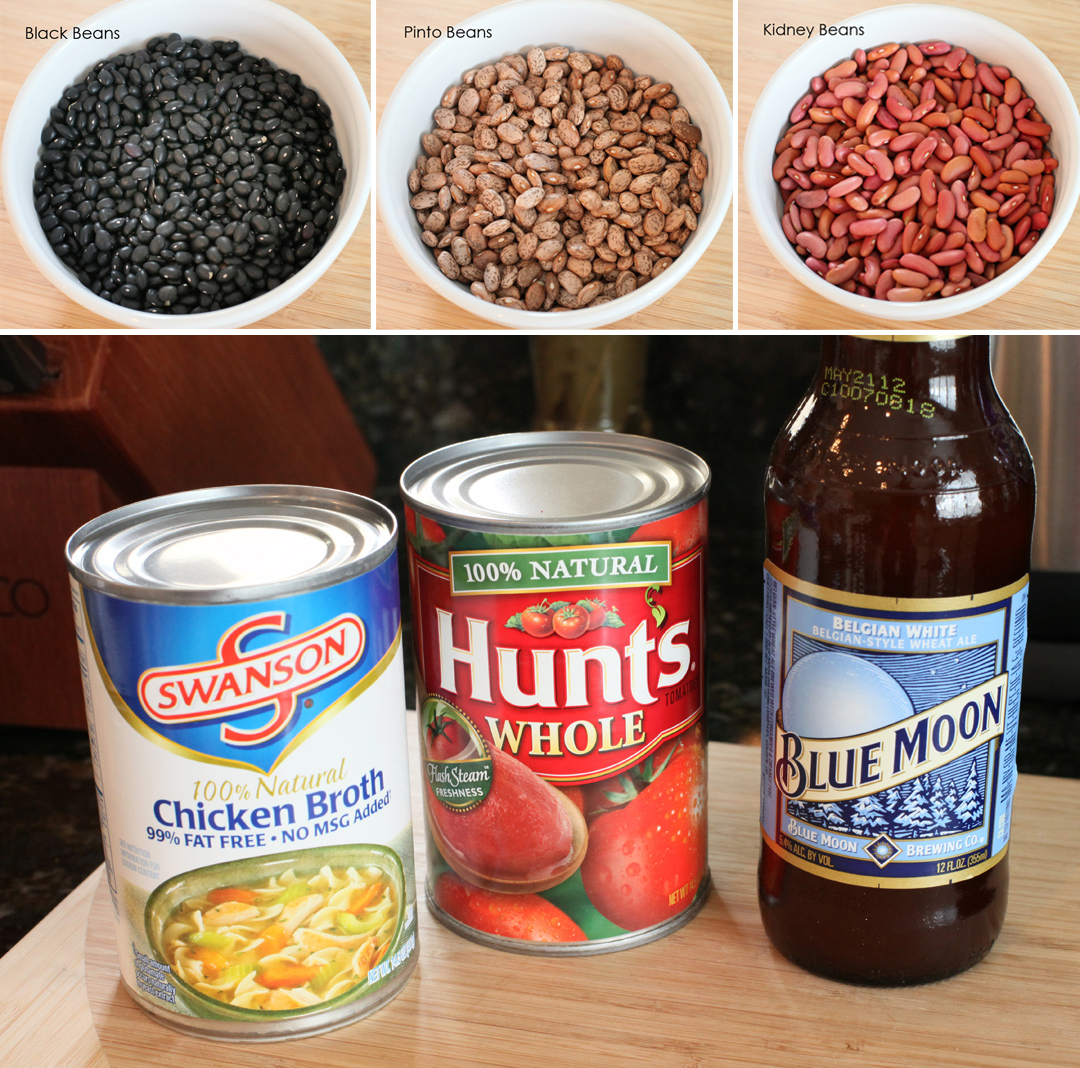 Now add to the pot the three types of beans.  Give it another mix.
Add the liquid ingredients now.  You want to make sure the beans and everything else is fully submerged in liquid. Enough liquid that it overlaps the bean mixture by about 1-inch.
Shut the lid, and turn to lock it securely.  Set the Pressure Valve to "Airtight".  Press the PRESSURE COOK TIME button and program the machine for 75-minutes.
That's pretty much it.  Let the pressure cooker do its magic.
It'll take about 5-7 minutes for the machine to build up pressure.  Once pressure has been reached, the letter P will appear on the screen and the cook time will begin to count down.
***Insert Jeopardy theme music***
Once the cooking is finished, it will beep and automatically go to keep warm.
As impatient as I am, I immediately dashed over to manually release the pressure by turning the pressure valve knob to Exhaust.  Choo choo!
Once the float valve has dropped and the lid is safe to open, unlock and lift the lid up.  Give the chili a good stir!  If it seems too dry or thick, add some chicken stock to it.  Add salt and pepper to taste.  And if you like more of a kick, some cayenne pepper too.
Serve hot with a sprinkle of shredded Parmesan cheese, a dollop of sour cream and some freshly chopped basil.  And then get ready for some boot scootin', toot shootin' meal!  hehehehe
Update:  You can substitute dry beans for canned beans if you like.  It would cut the cook time down substantially.  To about 15-20 minutes.  Also, if you wish to soak the dry beans overnight and then remove the bean husks before cooking, you're welcome to do that as well.  I heard that the husks/shells are what causes bloating and gases when beans are consumed.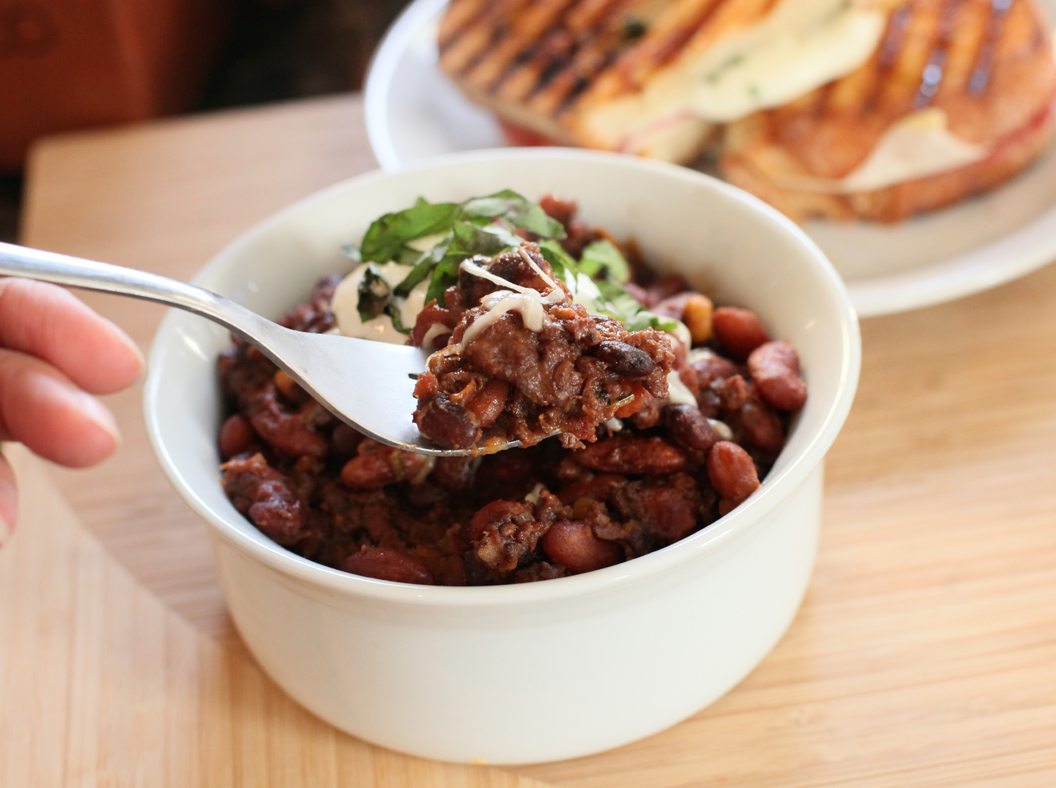 And this is my version of the Bee Sting grilled cheese sandwich.  I used a panini sandwich grill.  It's unbelievable!  It's everything I had hoped it would be.  So deliciously vicious on your taste buds!!!