I wanted to share something completely un-pressure cooker related.  They're cute little tasty sushi dessert treats.  It's fun to make and fun to eat.  I made these this year for my annual Holiday Package that I pass out to all my friends.  I had help of course since I had to make sooo many.  A couple of my good friends and I got together and we started up an assembly line!  And they turned out so well that I wanted to share and show people how we made them in case anyone wanted to try making them one day as well.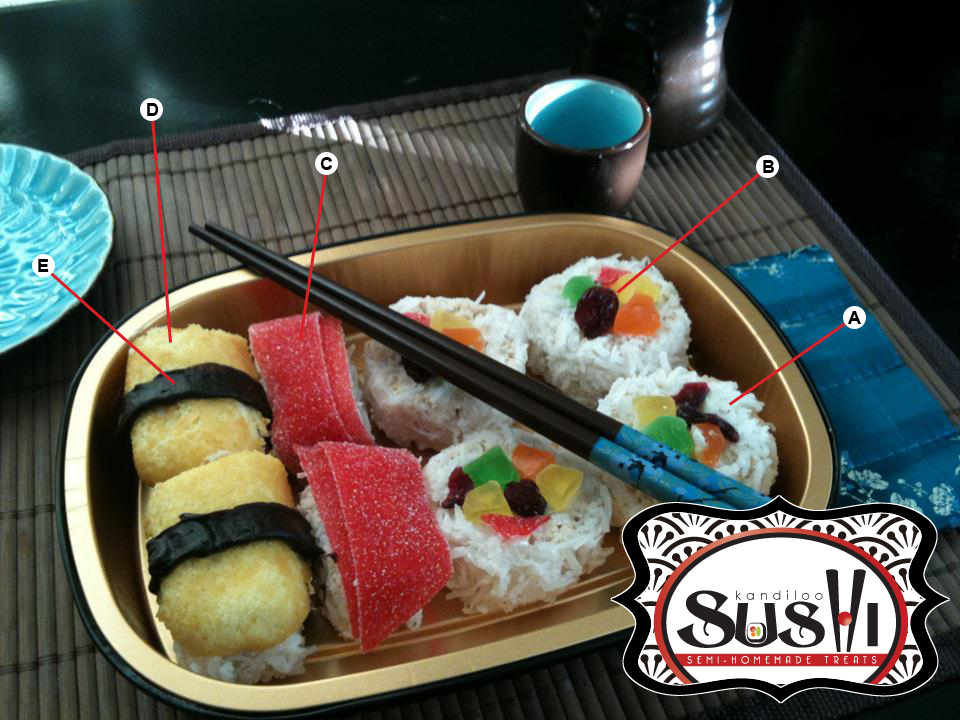 INGREDIENTS:
Rice Krispy Treats
White Chocolate
Shredded Coconut
Assorted Candies (I used Gummi Bears, Sour Strips, Dried Cranberries)
Yellow Twinkies
Dark Chocolate Frosting
A)  The Sushi "Rice" Base:
I used Rice Krispy treats that were pre-made from the store.  But you can always make your own as well, I was just trying to save on time.  Each packaged treat is about 3″ x 2″ rectangular shape.  Cut them into 1pc 1″ section, and 1pc 2″ section.  The 1″ sections were used for the log shaped sushi, and the 2″ sections were used for the round sushi rolls.

Rice Krispy treats are surprisingly easy to mold and shape.  Round off the sections so they aren't so angled.  For the round sushi roll pieces, indent the center of the rice krispy to make a slight "well" so the candies can fit into them instead of sticking up on top of them.
Melt the white chocolate, add vegetable oil to it little by little to make it more runny and not super thick and chunky.  I kept my chocolate in a food warmer so it always remained warm and melted.
Put some Shredded Coconut into a separate large bowl as well.
Dip each rice krispy treat into the white chocolate, allow it to drip off the excess.  Leave the bottoms of each treat un-coated to avoid sticking to whatever surface you set it on later.  After the chocolate dip, immediately dunk it into the shredded coconut until it's nicely coated.  Set aside and allow to dry.
B) CALIFORNIA ROLLS TOPPINGS:
We cut up assorted colors of gummi bears.  Chop off their little gummi heads and their little gummi bums.  Put a little dab of white chocolate on the back of each gummi piece and stick it into the well of the rice krispy rolls.  Originally we used red pieces but it started to look too "fake", so we used dried cranberries instead since I had a bag of those around.  Use your imagination and improvise, don't be afraid to play around and have fun.  (You can also use fresh fruit such as kiwis, strawberries or oranges.  But fruit won't last unless you intend on serving them and eating them right away.)

C)  TUNA SUSHI TOPPINGS:
Using the 1″ log pieces of rice krispy treats, you can make a variety of different sushi.  I chose to make Tuna Sushi because I found these awesome strawberry flavored sour strips.  They were perfect!  Cut each strip at a diagonal just like they cut sushi fish at the restaurant.  I used two strips for each sushi.  Put a little dab of white chocolate underneath each strip and gently lay it over each rice krispy log.  Make sure each strip is long enough that it drapes off the ends so it looks more "realistic".  😀
For other sushi variety, if you can find strip candy in other colors such as orange or pale pink, they would make great Salmon Sushi or Albacore Sushi!
D) TAMAGO EGG SUSHI TOPPINGS:
Freeze the Twinkies for just about 30-minutes.  It will make slicing them easier so they don't get all squished and crumbly.  Slice off the rounded dome tops and them cut them in half.  (Save the bottom base for the kids to eat.  Or if you have a husband with an evil sweet tooth. )
Place each Twinkie piece onto a rice krispy log with the white cream filling faced down.
E)  STRIP OF SEAWEED WRAP:
I used super dark chocolate frosting (you can also use black frosting if you can find it.) Fill a piping bag with the frosting and using a flat tip, pipe a band wrapped around the Twinkie to make it appear like it's got a strip of seaweed wrapped around it, just like at the restaurants when it is served.
That's it!  They're all done.  See, they weren't that hard!  Once all the pieces have dried and settled, store them in covered containers.  Do not put them into the fridge.  It will make the gummy bears hard and the sour strips' sugar coating melt.  You can serve the pieces on top of a cake, or a cupcake.  Package them up in little to-go boxes and give them away as gifts.  They would make great stocking stuffers for the sushi lover this Christmas!  You can do anything you want with them!  The kids will love them as well, since they won't ever eat the real thing anyway!  And everything will last for several weeks.  The Twinkies will get a little dry but Twinkies are reportedly able to survive a nuclear war!  JK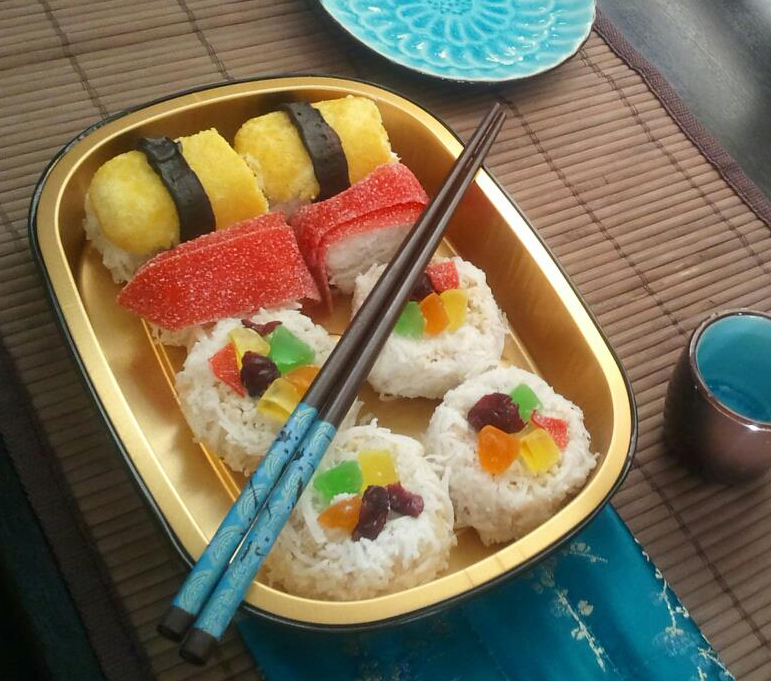 I didn't do the wasabi or ginger that is usually served with sushi, but my friend suggested using Taffy candy which is super pliable and comes in light green and pink colors.  Mold them into the shape you want and serve it next to your sushi treats!!!  Fun fun fun!!!
**As a side note and completely optional, if you like my blog, I'd really appreciate it if you'd help me out by clicking on the few ads I have now on the site.  It's completely safe and no spam or malware, and totally free as well.  But every click a reader makes, will earn me some extra $ to fund this blog.  All you have to do is click on an ad you find interesting, and that's it.  Thanks!!!