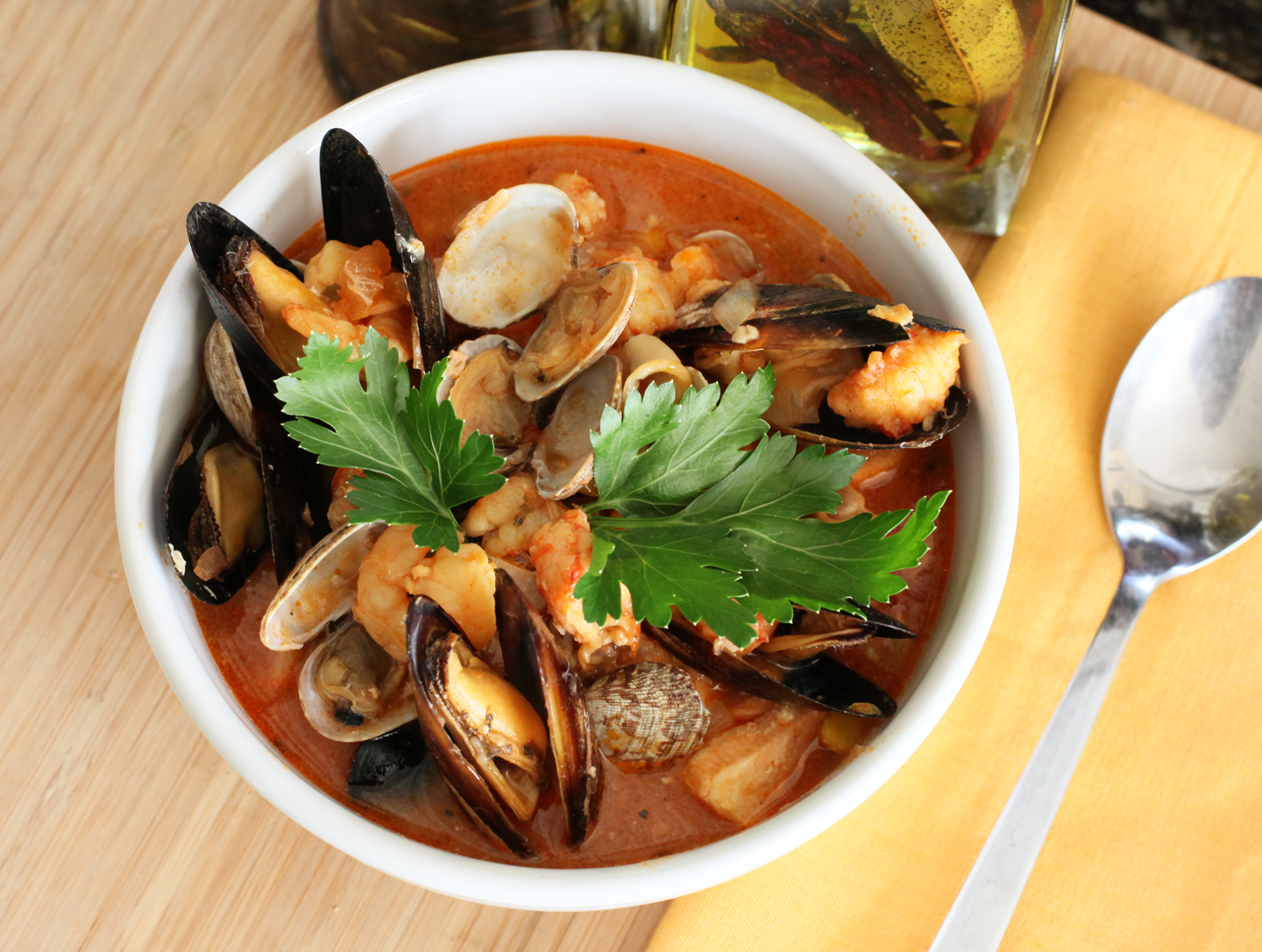 This seafood recipe is amaaaay-ZING!  I tweaked it a bit but it's got some heavenly flavors that's going to dance in your mouth!  I love seafood.  It always reminds me of traveling and vacationing by the beautiful oceans of our planet.  This recipe is completely pescatarian.  It's also fast and super easy, and perfect for this chilly gloomy weather.
THE SOUP BASE INGREDIENTS:
A Mild Roux Mix
1 Tbsp Flour
1 Tbsp Butter
1 Cup White Wine
The Stock & Other Ingredients
2 Cups Water
1 Cup Chicken Stock
1 Whole Onion (Chopped)
2 Whole Tomatoes (Chopped)
1/2 Cup Corn (Optional – I added these last minute so I didn't take a photo)
1/2 Cup Celery (Optional – I didn't add any cause my husband doesn't like them much)
4 Cloves of Garlic (Chopped – Not pictured, I forgot about it.)
1 Can Tomato Sauce
3 Bay Leaves
1/2 Tsp Saffron Strands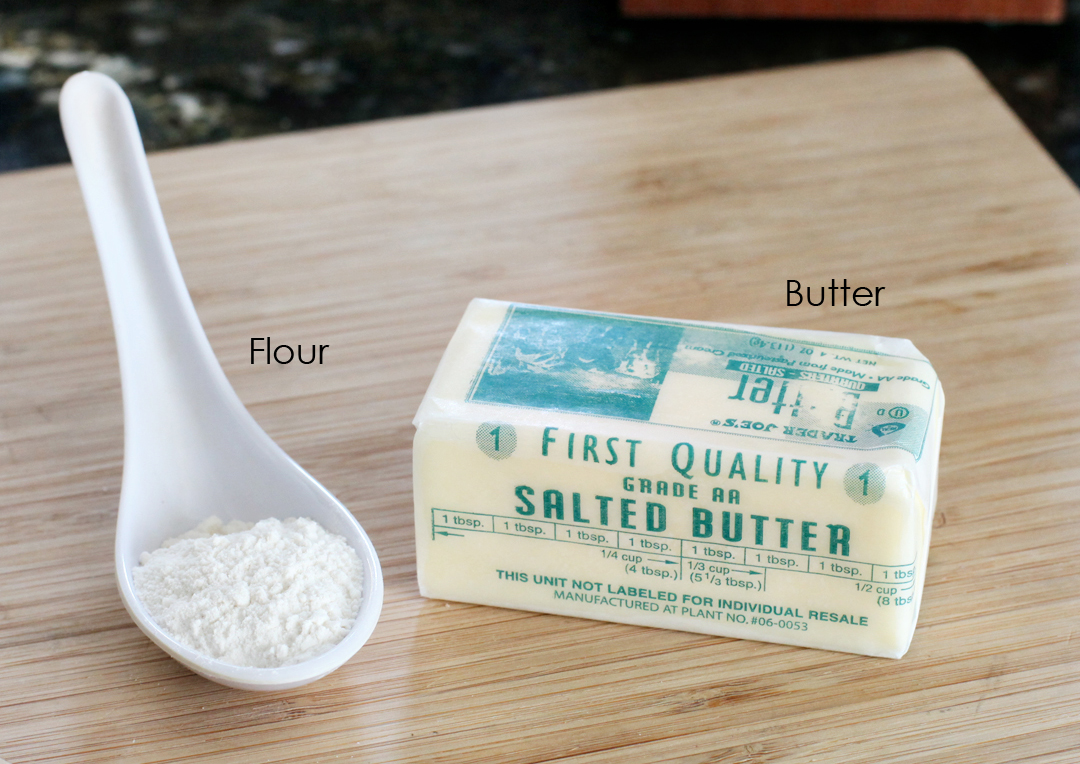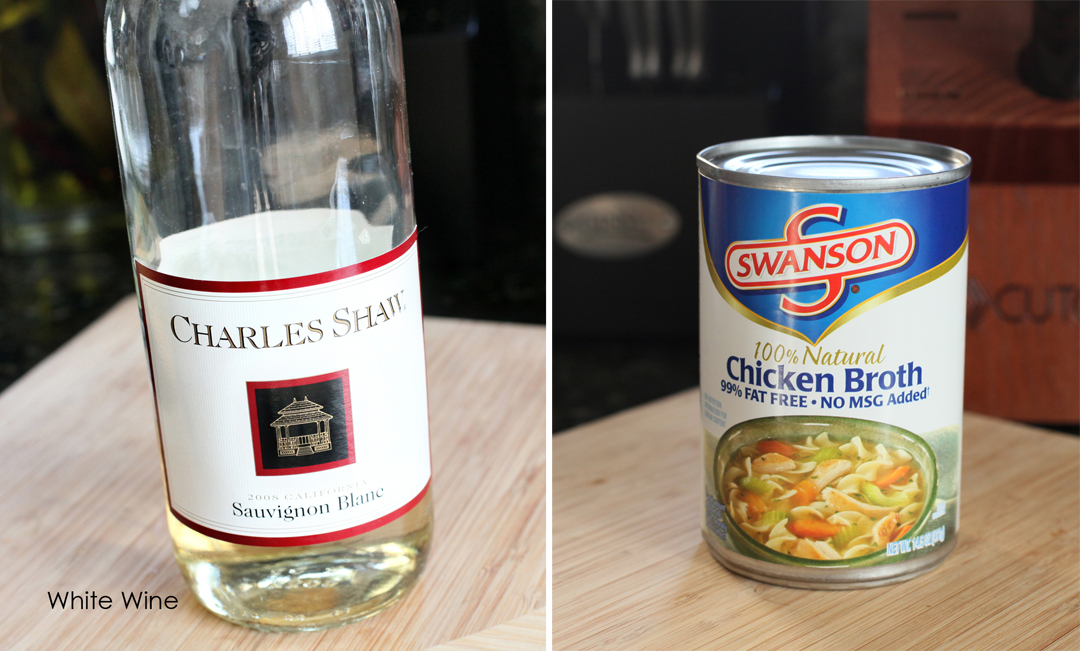 Press the START button on the pressure cooker to heat up the heating element for the Browning feature.  We're going to make a mild roux mix so the chowder is slightly thick but not overly dense.
Melt the butter in the inner pot and then add the flour to the butter and mix with a wooden spoon.  Start diluting the roux with the white wine little by little.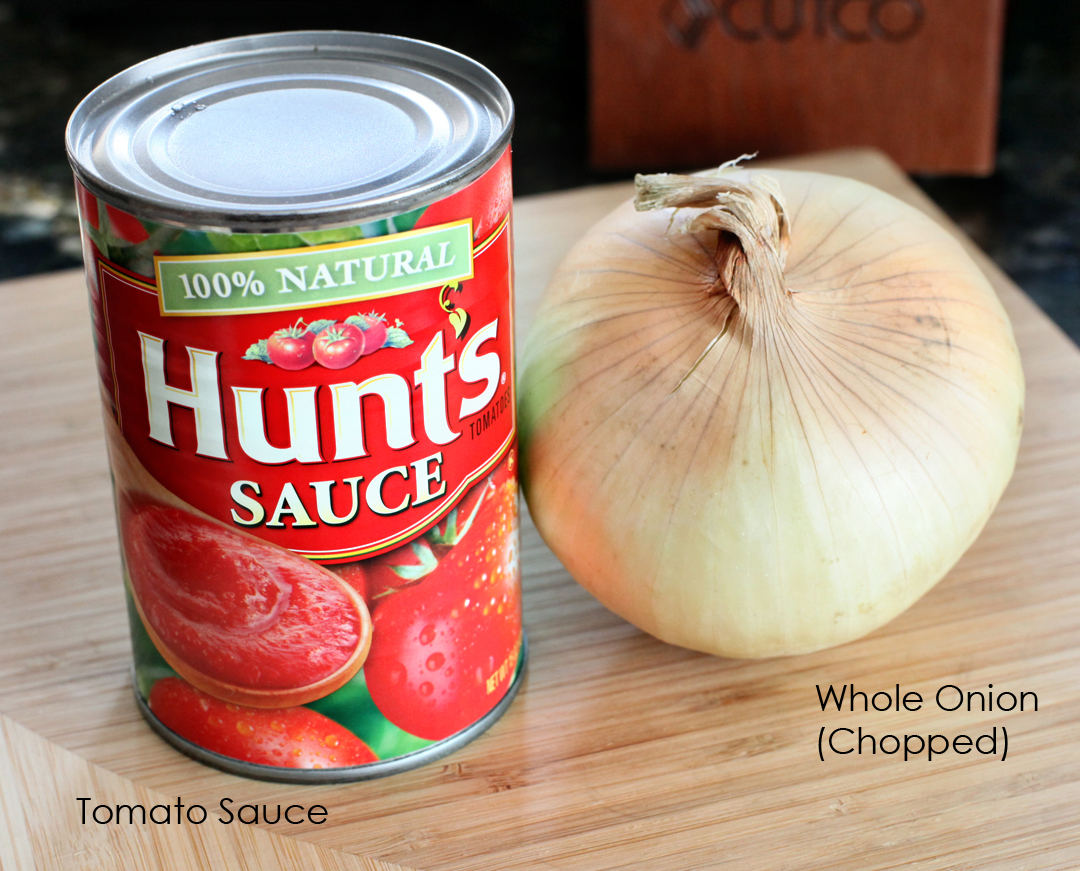 To the roux mix, add the chopped onions, garlic and chopped tomatoes, plus the celery.  (Sorry, the photos of my ingredients are kind of out of order.)  Cook the mixture for just a couple of minutes and then you can shut off the pressure cooker by pressing the CANCEL button.  The mixture should look like this.  Thick and creamy.  Season with salt and pepper.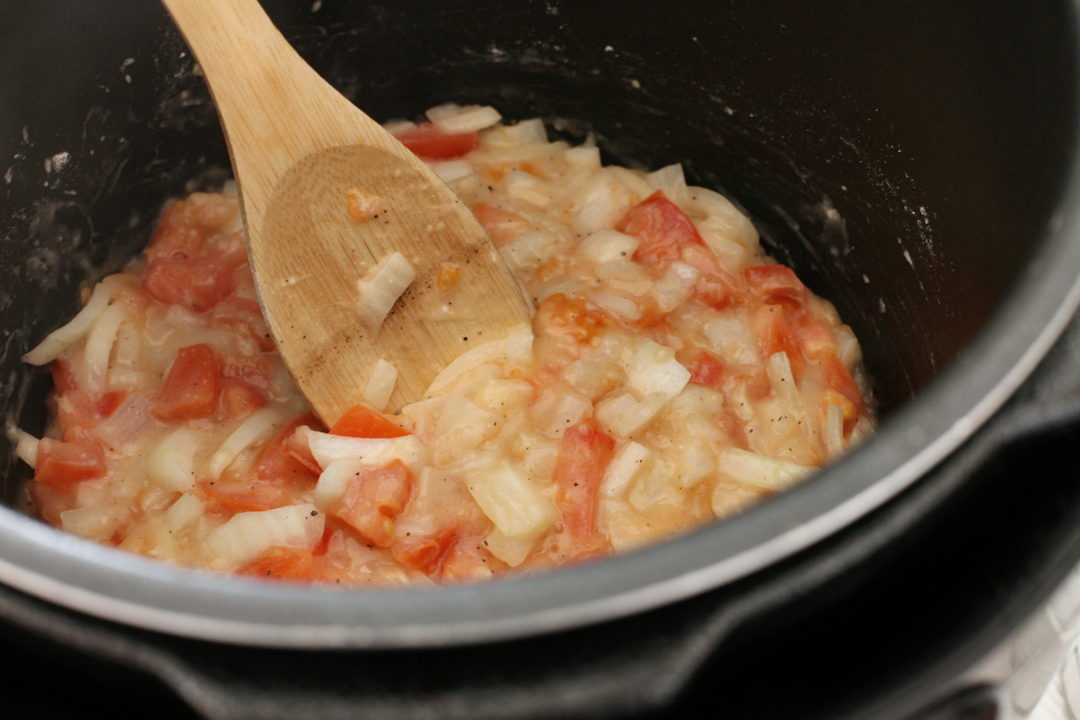 Now add to the mix all the water, tomato sauce and chicken stock.  Add the bay leaves and saffron.  Give everything a good mix.  The soup base should be pretty watery with a slight hint of thickness.  If it's still too thick, add more water or stock…..or wine for that matter.  You can never have too much wine!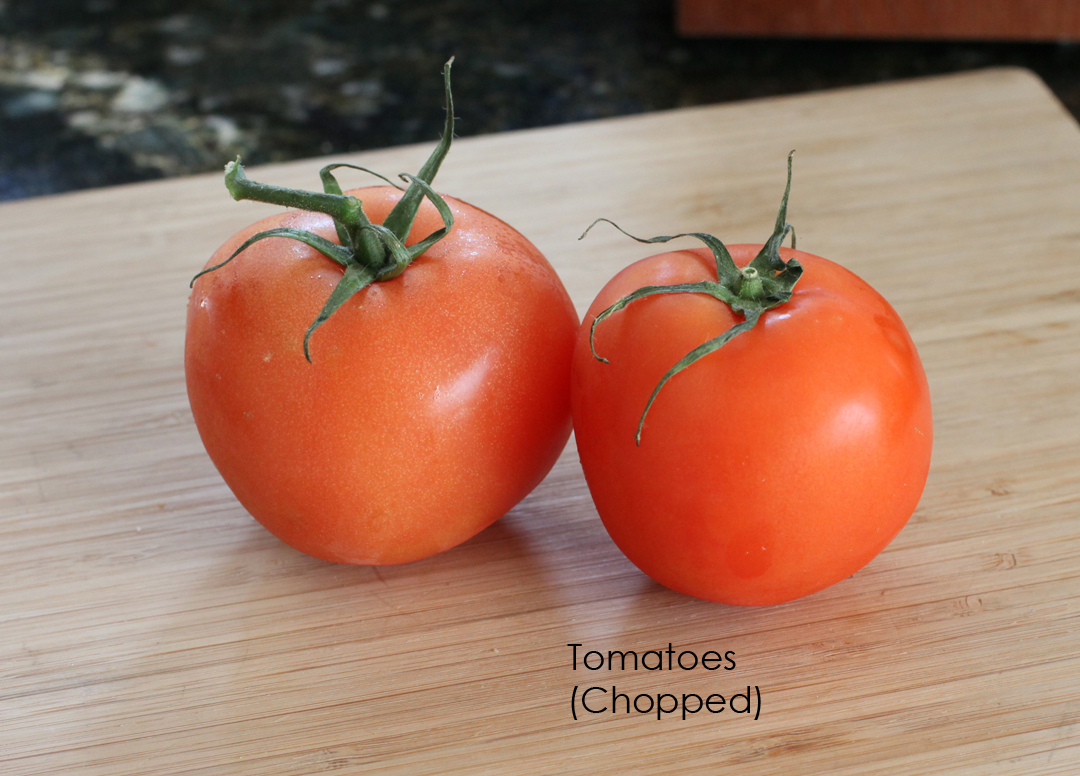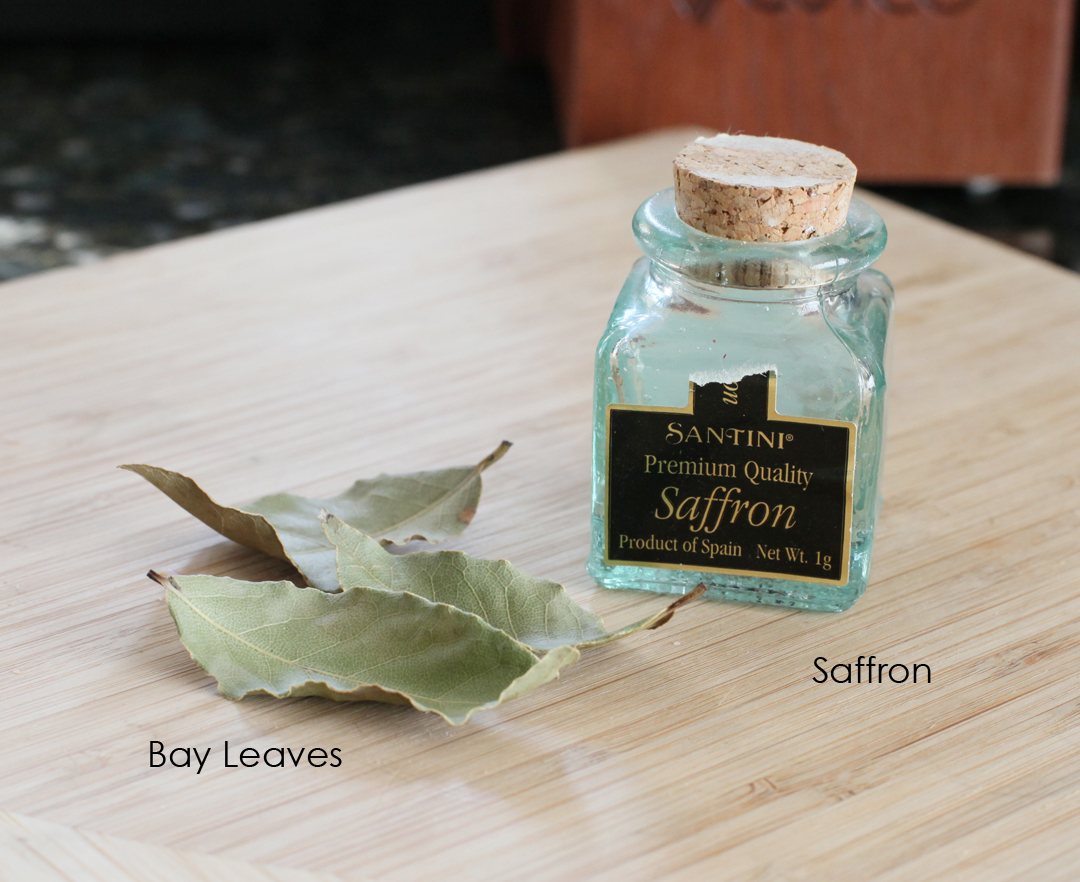 SEAFOOD INGREDIENTS:
1-2 Cups Seafood Mix (Calamari Rings, Scallops, Bay Shrimps, etc.)
1-2 Cups Whole Clams
1-2 Cups Whole Shrimp (Shells removed)
1-2 Cups Whole Mussels (The ones in my photo were the only ones I could find at my market)
1-2 Cups Langostino Tails
1-2 Cups Chopped Salmon (Or any other fish is fine)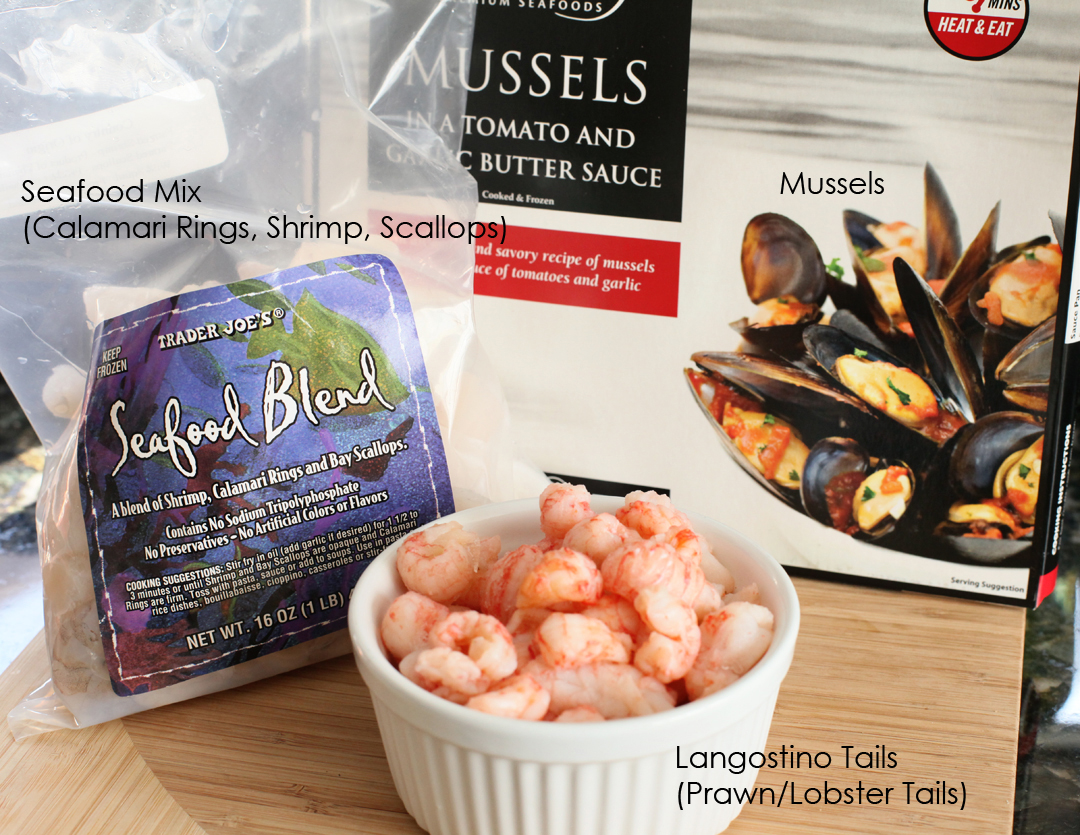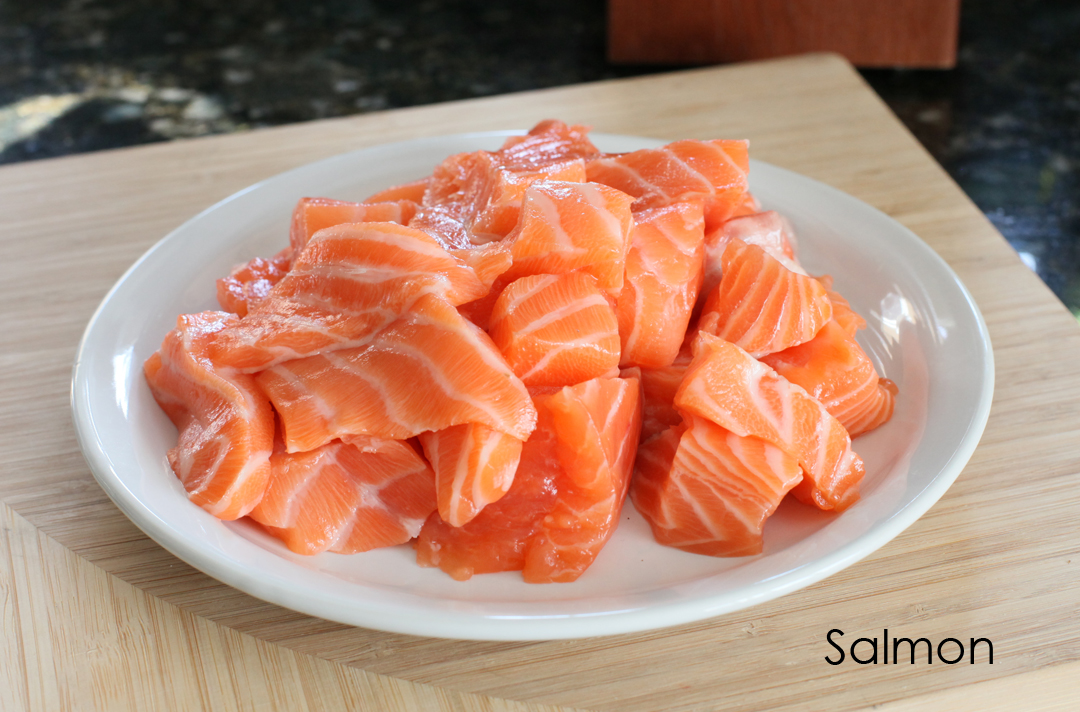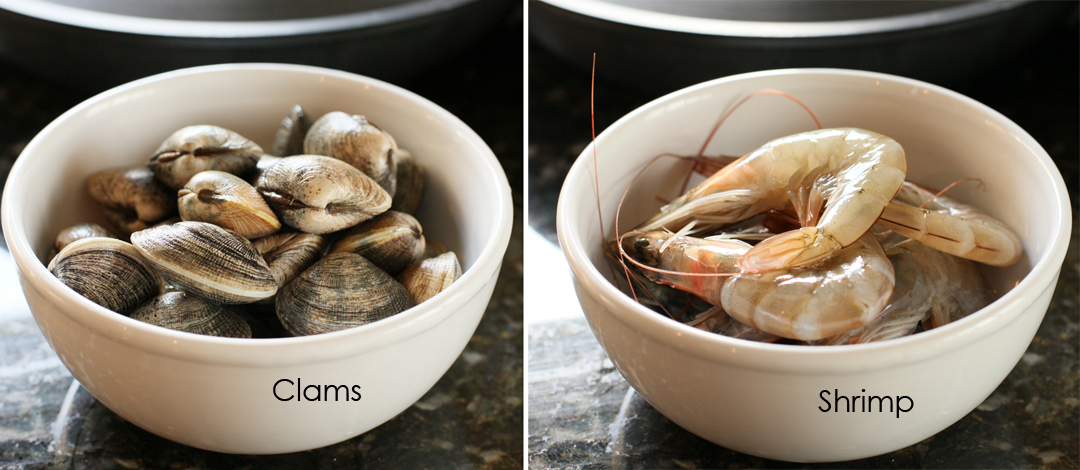 Now it's time to add all the wonderful seafood to the soup base mix.  This is what I'm talking about!!!  I listed the ingredients as 1-2 cups for everything because some people like a bit more of something and a bit less of something else. Plus, it's also so you don't over-fill the cooking pot.  You always want to leave at least about 2-inches from the top rim to prevent over-flowing.  (If you like, you can remove the shells so there is more room.)
Once all the seafood has been added, give everything another good stir.  Then shut the lid and turn it to lock it into position.  Adjust the Pressure Valve to "Airtight".  Press the PRESSURE COOK TIME button to 10-minutes and then press START.
That is it.
I know with all the ingredients for this recipe, it may come off kind of complicated but it's not.  It's super easy!  10-minutes will get everything all nicely cooked and the flavors melded together.  You can tweak this recipe to your liking by adding all sorts of seafood or vegetables to it.  The world is your "oyster"!  (Pun intended).
When the pressure cooker is finished with its cooking cycle, it will beep and go to keep warm automatically and start dropping the pressure down by itself.  This recipe, you can choose to release the pressure manually or let it drop down in pressure by itself, it doesn't make a difference.  But always check that "Pressure Float Valve" has dropped before attempting to turn the lid to unlock and open it.
I have never made this soup before, whether on the stove-top or in the pressure cooker.  But hot damn, it smelled so good! I spooned out a bit to taste and oh-my-goodness, I wanted to faint!  It was soooo good.  I was amazed!  I'm not trying to toot my own horn or anything like that.  I totally surprised even myself by how good it was.  If you like seafood, this is going to blow your socks off!  My HB was drooling all over the place, and his socks shot clear across the room!  Okay, not really, but that's only cause his socks have too many holes in them.
ENJOY!!!