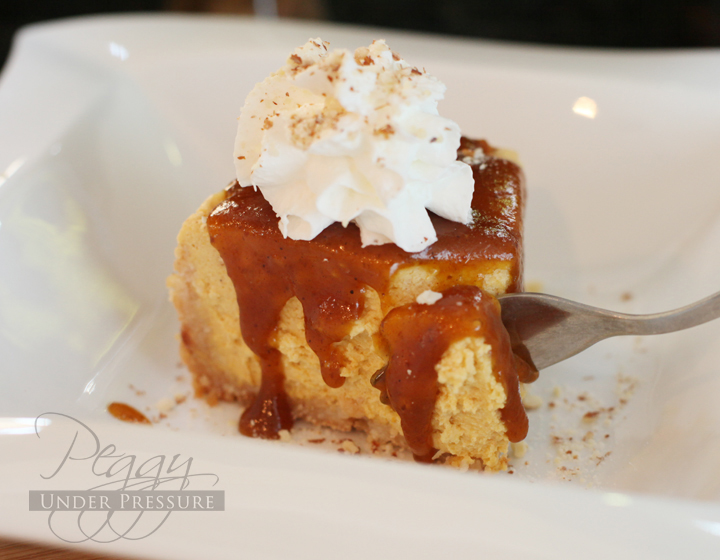 I've had pumpkin pie on my mind ever since November started.  But I wanted to make something in my pressure cooker instead of baking something in the oven.  So cheesecake in the pressure cooker sounded easy enough.  I did a bit of research on google and found a pretty decent recipe that I tweaked and adapted.  And I bought all the ingredients for it. But then afterwards, I came across an even better recipe for a Pumpkin Cheese Flan and almost fell off my bed.  It looked sooo awesome!  But it was after I had purchased all the ingredients for the cheesecake so I couldn't just scratch that off the list. So…..I will be trying out the Flan recipe in a future post for sure.  Hope you don't get sick of all the pumpkin desserts.
When I started making the pumpkin cheesecake, my Hubz was hovering all around the house asking me questions about it every 15-minutes.  "Are you going to make the pumpkin cheesecake yet?"; "Can I have a macaroon?"; "Did you put the cheesecake into the pressure cooker yet?"; "When is it going to be done?"; "How long does it have to refrigerate afterwards?"; "Does it have to be overnight?"
Obviously, he was excited and couldn't anticipate waiting a whole day to have any.  The sweet tooth on this man is ridiculous. Sweet for the sweet.
INGREDIENTS:
Crust:
4-6 Macaroons
4 Sheets Graham Crackers
1-2 Tbsp Butter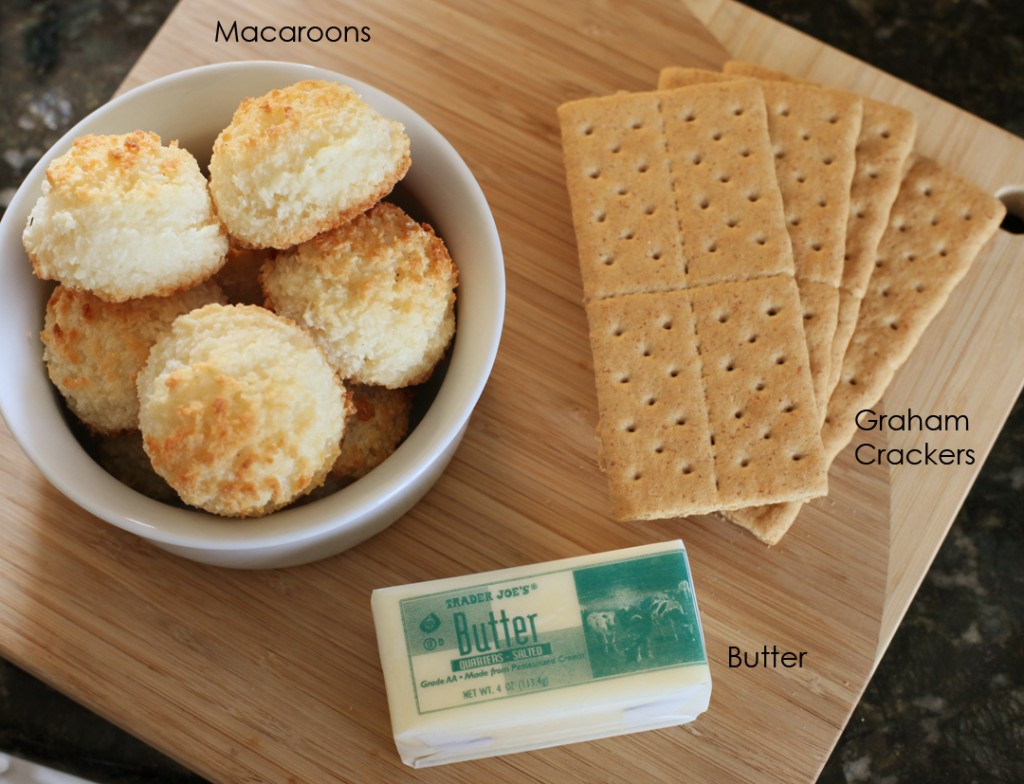 Filling:
2 (8oz.) Cream Cheese
1/2 Cup White Sugar
1 Tsp Vanilla Bourbon Extract (I found mine at Trader Joes.  As you can tell, I shop there a LOT!)
1 Tsp Whiskey or Bourbon
3/4  Cup Canned Pumpkin
2 Eggs
1/2 Tsp Cinnamon
1/4 Tsp Nutmeg
1/4 Tsp All Spice or Pumpkin Spice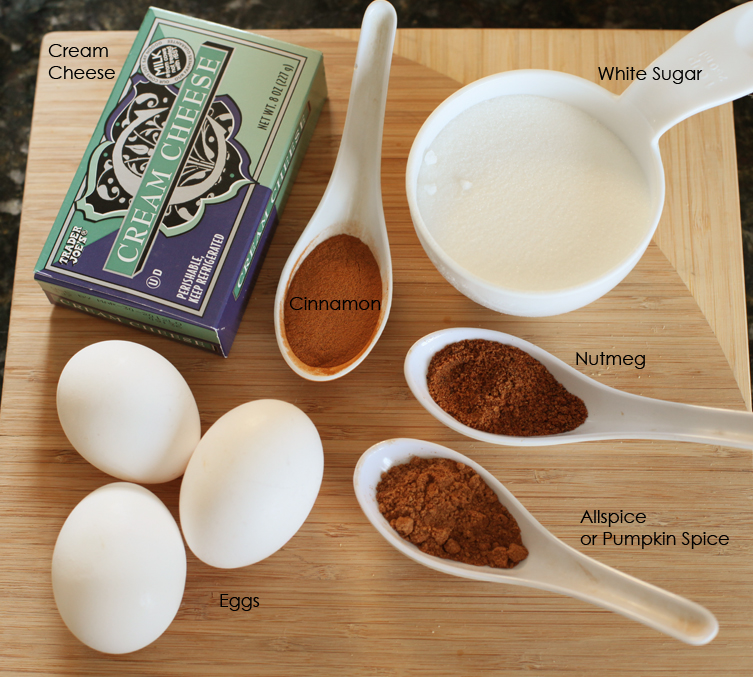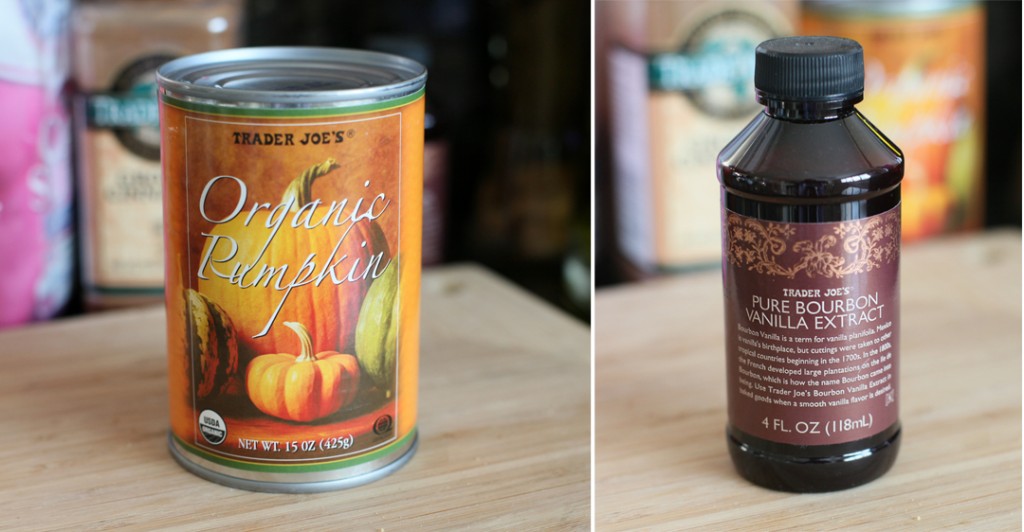 Equipment:  6″ Spring-form Pan and a Trivet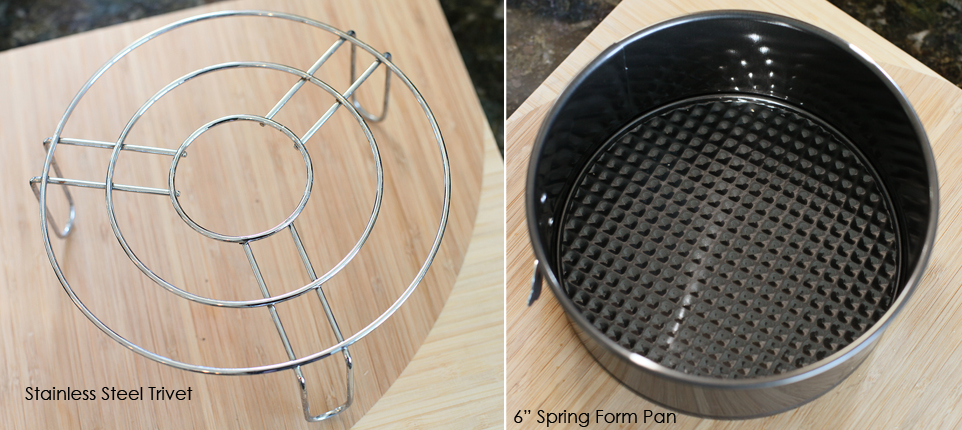 Ever since I discovered using macaroons for cheesecake crusts, I've pretty much always stayed with macaroons instead of just plain graham crackers.  The macaroons give the crust a chewy texture and it's awesome!  Don't worry about the coconut flavor not mixing well with the pumpkin, it will be ridiculously yummy!
So let's make the crust first.
Using a food processor, process all the Crust ingredients into a coarse and crumbly mixture.  Make sure your food processor is secure though.  For some reason, mine decided to jump around today and vibrate like a possessed robot on crack.  The lid vibrated loose and cookie crumbs went flying everywhere!  It was jumping all over, I could barely get to the OFF switch.  Not fun!!!  But the doggies helped clean up the floor.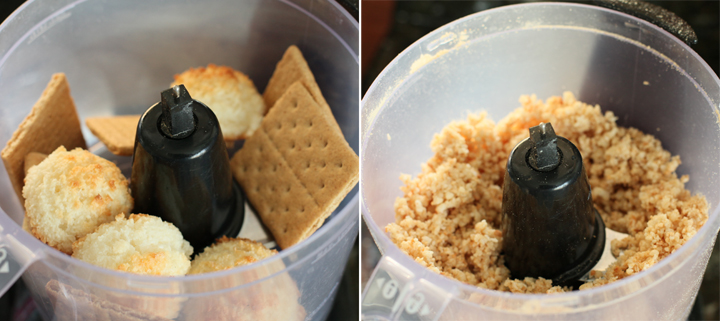 Grease the spring-form pan so the cheesecake doesn't stick.  Take the crumbs and start forming and flattening it into the pan.  If you like a thicker crust, make it thicker, it's all up to you.  Make sure to have the crust come up the sides of the pan as well, maybe about an inch high.  If you have any extra crumbs left, you can put it into a bowl, add a spoon and give it to your kids.  Chomp chomp yum!
Now for the filling, using a mixer or stand mixer, mix together the first three ingredients:  cream cheese, sugar, vanilla extract and bourbon.  Mix until smooth and then add the remaining ingredients until that is smooth as well.
Use a spatula and pour the mixture into the spring-form pan over the crust.  Use a spoon to smooth it out as best as you can.  Tap the pan a bit to get rid of any air bubbles.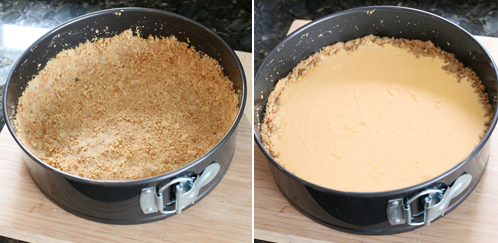 Pour 2 cups of water into the main cooking pot of the pressure cooker.  Set the Trivet into the center of the pan and place the spring-form pan onto the trivet.  You basically do NOT want the water touching the pan, so that's what the trivet is doing, lifting it up above the water line.
Now comes Peggy's turn to do her magic.  Shut the lid and turn to lock it into position.  Press the Pressure Cook Time button and program it for 15-minutes.  Press START. That is it.  The cook time will go by pretty fast, when it beeps and goes to keep warm automatically, allow the unit to drop down in pressure by itself. So you're going to have to be patient and not exhaust all the pressure and open the lid to take a peek.
During this time, you can whip up some garnishes.  I used Whip Cream, chopped up nuts and *drum roll please* pumpkin butter!!!  This stuff is yummy!  Put a few tablespoons of it into a little bowl and microwave it for about 20 seconds.  Add a dash of whiskey to it if you want it more runny.  Give it a good whisk.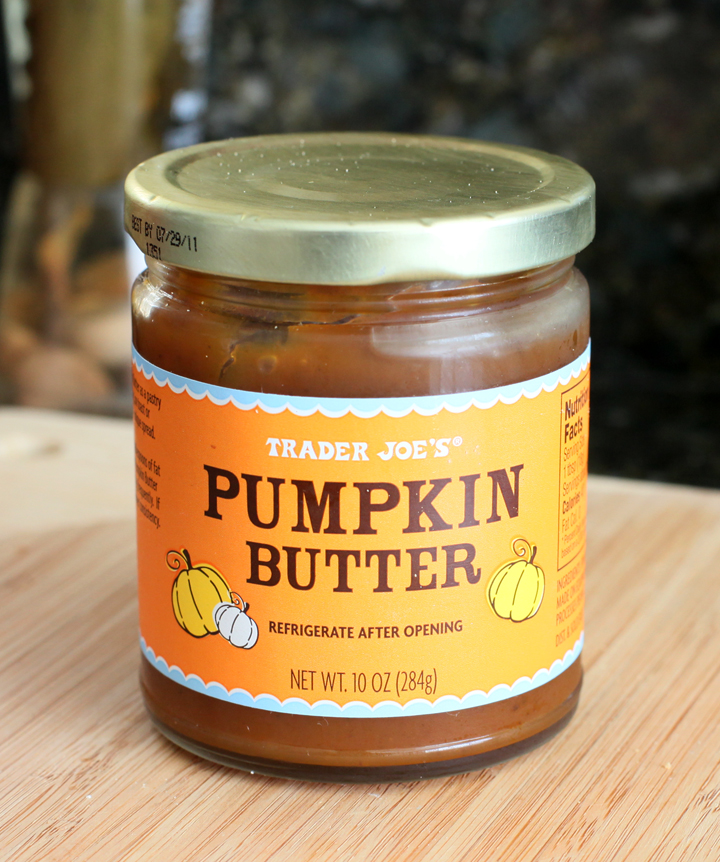 Once the pressure cooker has completely dropped down in pressure, you  can open the lid and remove the cheesecake carefully.  It may look really wet and moist, but just let it rest for a few minutes and then pop it into the refrigerator for at least 3-4 hours to firm up.
My hubz was practically rubbing his hands together in glee.  Slice up a slice, garnish with the pumpkin butter, whipped cream and chopped nuts.  Serve immediately to avoid any further hounding from any family member that's been hovering in the kitchen for the last few hours!!!
The cheesecake is extremely moist and smooth.  The crust is always my favorite part.  You can barely taste the bourbon but it gives the whole cheesecake an elegant richness in flavor.  This is a great addition to any Thanksgiving or Holiday dinner this year.  YUMMAY IN MY TUMMAY!
*As a side note and completely optional, if you like my blog, I'd really appreciate it if you'd help me out by clicking on the few ads I have now on the site.  It's completely safe and no spam or malware, and totally free as well.  But every click a reader makes, will earn me some extra $ to fund this blog.  All you have to do is click on an ad you find interesting, and that's it.  Thanks!!!