**Update**  I've decided to extend the expiration date for the contest.  The week of Thanksgiving is going to be a busy one for many people.  The new expiration date is going to be November 27th, 2011 Midnight.  I'm going to give it another week.  Thanksgiving week brings around more google traffic.
Tis the season to be merry!  Halloween is barely over.  Thanksgiving is just around the corner.  But the Christmas decorations have been adorning all the shopping centers in my area. Talk about aggressive and suggestive marketing and subliminal messages!!!  It just cracks me up!
I love this time of year.  The weather is cool but not quite freezing.  In Southern California, that usually means in the 60s or 50s.  (Sorry, I don't mean to rub it in to all the folks on the East Coast that is experiencing blizzards and such.)  But this time of year is always so inspiring, whether it's inspiring to give and help the needy.  Or inspiring for cooking up delicious food to share with family and friends.  This time of year always gets my blog posting butt in gear!  So don't mind me if I start posting twice or three times a week!  *gasp*
So I thought this would be a great time to do a Special Holiday Contest!!!  To help promote my blog and grow its fan base!!!  And to give some lucky winners a new Elite Pressure Cooker in the festive holiday color of RED!!!  It will be one of the newer models with 13-functions.  Model EPC-808R.  You can't pass this up!  No way!  No how!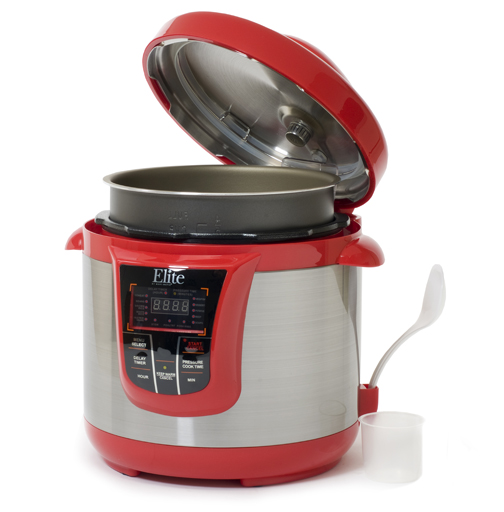 To enter the contest, there are two  different things you can do.
QUESTION:  What's something you would like to see cooked in the pressure cooker on this blog???
VIA FACEBOOK:
Add and share the Peggy Under Pressure Facebook page to all your friends and family.  And then leave a comment by answering the above question to the Holiday Contest post on the Facebook page.
At the end of the contest, I will randomly choose a lucky winner from the commentators on Facebook. (Make sure you only comment in the designated Holiday post, not an individual comment on the facebook page.  Only one comment per person please.)
So make sure you, yourself, leave a comment.  And make sure your friends and family leave a comment.  The more the merrier.
VIA THE BLOG:
Simply leave a comment by answering the above question to this Holiday Contest blog post.  That's it.  (Only one comment per person please.)
So make sure you and your friends and family all leave a comment!!!  The more the merrier.
I will randomly choose a lucky winner from the Blog page.
And while you're at it if you don't mind, please click on my page ads!!!  (Hey, I need any help I can get to fund this contest!  hehe)
Contest ends on November 27th Sunday at 12-midnight PST.  I will use a Random Number Generator app off my phone to pick out the two winners and post the winners up on the following Monday.  One winner from Facebook, and one winner from the blog.
Good luck!!!